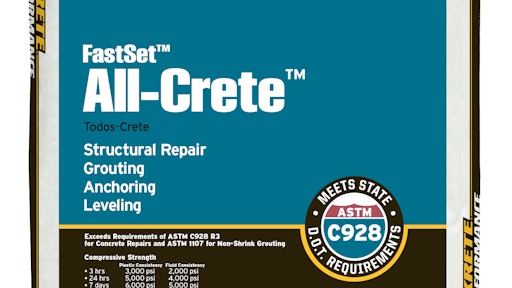 HIGH PERFORMANCE CEMENT FastSet All-Crete is a dual purpose material that sets in 20 to 45 minutes and can be mixed to a plastic, flowable or fluid consistency for anchoring and grouting of anchor bolts, equipment, retrofitted reinforced steel column bases, bearing plates, pre-cast concrete key ways and other installations that require high early and high ultimate strength. As a thicker mix, it can also be used for making partial depth or full depth repairs to roads, bridges, industrial floors, and other concrete surfaces.
Meets ASTM C 1107 and ASTM C 928 R 3 requirements
Can be applied 1/4" to 24" thick
A 55 lbs. bag yields approximately .53 cu. ft.
Request More Information
Fill out the form below to request more information about
HIGH PERFORMANCE CEMENT FastSet All-Crete