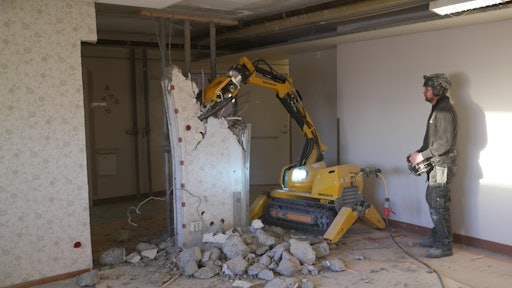 Brokk has updated the Brokk 60 II, now with 10 percent more power than the original Brokk 60. The new model is the smallest unit in the world and has an upgraded hydraulic system, which increases the machine's power. Besides the hydraulic system changes, Brokk improved machine handling to make it even more maneuverable in tight spaces. The Brokk 60 II's machine movements are smoother and more precise than before.
Weighs 1,102 lbs.
Its overall dimensions remain the same as the original Brokk 60 — only 23.2-in. wide and 34.3-in. tall.
While mainly used in the construction industry, it is also ideal for other applications where limited space is common, such as mining, nuclear and process industries. 
The unit's three-part arm system works with a variety of attachments including hydraulic hammers, grapples, crushers and buckets to achieve flexibility and versatility.
Request More Information
Fill out the form below to request more information about
Brokk 60 II Features New Updates