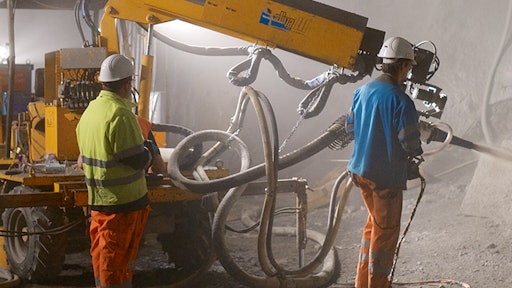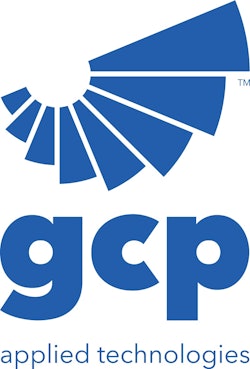 GCP Applied Technologies Inc. has introduced the TYTRO Shotcrete System, a complete state-of-the-art admixture solution that makes shotcrete for underground construction better, faster and less expensive than conventional systems available today. The TYTRO System includes a nanotechnology-based rheology control agent, patented macro synthetic fibers, and a number of other newly developed admixtures that enhance productivity of the spraying operation and material performance. The TYTRO Shotcrete System provides underground construction professionals with the capability to reduce operating costs and minimize excavation downtime, without sacrificing performance or relaxing safety standards. The TYTRO Shotcrete System provides faster early strength and enhanced bonding-to-rock with an increased one-pass thickness build-up. The system also minimizes rebound during spraying.
 Main advantages* provided by the TYTRO Shotcrete System compared to conventional mixes include:
Up to 10% lower installed cost, achieved through mix optimization, waste minimization and shorter cycle times
Rebound rates reduced down to 5% - 8%
Faster re-entry times, due to more rapid early age strength development at equal accelerator dosage rate
Superior bond-to-rock and adhesion between layers, providing greater thickness in one pass
More robust and dosage efficient system
 The TYTRO Shotcrete System includes the following products:
TYTRO WR: High-range water-reducing admixtures for shotcrete that provide superior flow, prolonged slump life, and excellent plasticity, maximizing strength performance by allowing a lower water-to-cementitious materials ratio (w/cm).
TYTRO HC: Cement hydration control admixture, extending the working life of shotcrete up to 72 hours.
TYTRO RC: Innovative pozzolan-based rheology control admixture that is designed to reduce installed material cost when used as a replacement for silica fume or other cementitious materials. It provides faster early strength, superior bond-to-rock, enhanced sprayability, lower rebound, and reduced cycle times.
TYTRO SA: Latest generation of high-performance, alkali-free set accelerators, specifically formulated to provide high early strength at low dosage rates and improve productivity by shortening the time of setting without compromising long-term strength and durability.
STRUX BT: Macro-fibers featuring a patented design developed for underground shotcrete applications and offering superior flexural toughness and post-crack energy absorption.
TYTRO AE: Air entraining admixture for use in shotcrete mixes to protect against damage from freeze/thaw cycles.
TYTRO RM: Rheology modifying and mix-enhancing admixtures formulated to improve the pumpability and sprayability of the shotcrete mix.
*Referenced results are based on internal and external test data. Results may vary due to temperature conditions, mix design, cementitious materials content and aggregate gradations.
Request More Information
Fill out the form below to request more information about
GCP Applied Technologies Introduces TYTRO Admixture System for Shotcrete Applications