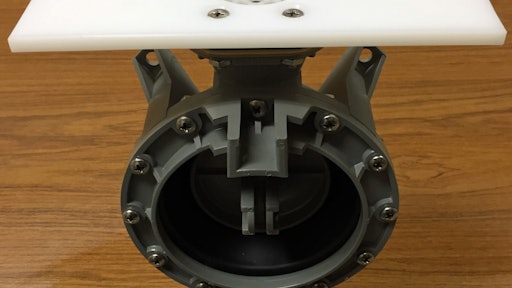 Aztec announces a significant improvement to the Guzzler. For more than 25 years the Guzzler has been saving cleaning crews significant time and money, efficiently removing stripping solution from vinyl composite tile, sealed or finished concrete floors and terrazzo floors – up to 30,000 sq. ft./hour, which is twice the speed of other recovery methods. Effective October 2016, all Aztec Guzzlers will be equipped with an innovative improvement to the pump plate system.
An historical weak point of the Guzzler's pumping system was that, if a floor was not dust mopped properly before stripping, then broken glass, stick pins, paper clips, and other small sharp objects could be sucked into the pumping mechanism. These objects could pierce the rubber diaphragm in the pumping system, destroying the majority of the pump suction.
The new honeycomb designed pump plate allows 92% of the flow of the original design while utilizing multiple small holes rather than one large hole to strain and prevent sharp objects from entering and damaging the pumping mechanism.
The Guzzler functions with no cords, batteries or motors and eliminates the need for defoamers.
Additionally, the Guzzler eliminates costly autoscrubber repairs to vacuum motors and other sensitive parts damaged by strip solution.
The traditional method of stripping floors was forever obsoleted when Aztec Products introduced the three-piece, ultra-high-speed Sidewinder Stripping System, consisting of the Liquidator solution applicator, the Sidewinder propane stripper and the Guzzler solution retriever.
Request More Information
Fill out the form below to request more information about
Aztec Guzzler Features New Anti-Clog Pump Plate