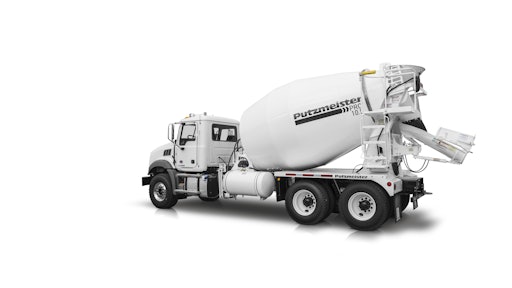 Putzmeister America, Inc. has enhanced the design of both of its concrete transit mixer models, the Pro Series and the Bridge Maxx Series. The updated models offer improved ease-of-operation, updated controls, and enhanced engineering. For improved operator ergonomics and functionality, additional features were added throughout the mixer. A handle has been added to the side of the main swing chute for easy operating. Along with a redesigned ladder, a longer handrail on the upper ladder provides for improved access to the work platform.
The rear and in-cab control boxes now conform to industry standards, as do the hydraulic and air valves. When maintenance is necessary on these parts, the switch plate and electrical components are in an easily accessible location.
Putzmeister's exclusive Ergonic EP Control System has been updated with multiple available hydraulic and pneumatic options.
Further enhancements were incorporated into the mixers, including an adjustable water injection pipe, redesigned water pressure control box, and a well-protected, easy-to-read pressure gauge.
The fenders are now easier to adjust and accommodate increased varieties of tire sizes, wheel types and truck sizes; and their modular systems allow for accessibility to specifics parts for maintenance. 
Request More Information
Fill out the form below to request more information about
Putzmeister America Enhances Concrete Transit Mixer Design