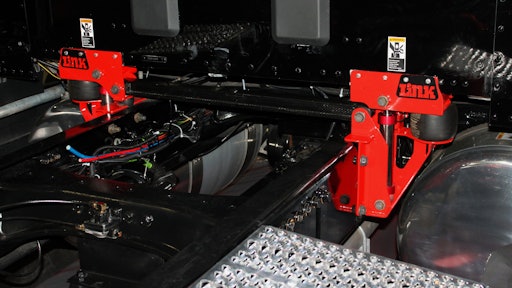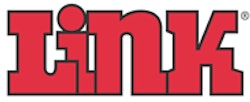 The ROI Cabmate Semi-Active Cab Suspension is the newest and most advanced version of its Cabmate cab suspension. It features Link' Manufacturing's Road-Optimized Innovations (ROI) technology, delivering a new level of ride quality that responds to road and weather conditions.
The ROI Cabmate Semi-Active Cab Suspension employs multiple sensors and is constantly assessing environmental circumstances, while responding simultaneously. An accelerometer monitors the motion of the cab, while a position sensor measures the position and velocity of the cab relative to the frame. 
Using Link's proprietary algorithms, the system's electronic control unit (ECU) interprets the stream of information from all sensors in real time and responds by continuously adjusting the stiffness of shock absorbers and by filling or exhausting air from the system's air springs to optimize ride stability and comfort. The entire ROI system operates on less than 10 watts of power. 
The system deals with unexpected encounters, like potholes, in real time. After transitioning from on- to off-highway conditions, cabs can sustain structural damage, vehicles can become harder to handle and drivers can be forced to decrease speed to avoid losing control. Even at reduced speeds, operators may be exposed to dynamic forces that, according to ISO 2631-1:1997 standards, can cause internal injury over time. The ROI Cabmate Semi-Active Cab Suspension can help prevent health risks, handling impediments and asset destruction that decrease worker satisfaction, productivity and revenue potential. 
In the past, advanced seating has been used to keep drivers more stable and to reduce discomfort. However, seating doesn't prevent steering wheels, gear shifters and accelerator and brake pedals from moving with dynamic force around the driver. Structural components may also still be damaged, and the contents of the cab, including those occupying a sleeper compartment, are still at risk. 
During the ROI Cabmate's development, Link's 39 years of cab suspension experience positioned it like no other to put the prototypes through their paces. Link is certified to IATF 16949 standards (previously TS16949), and over the years the company has assembled a world-class testing lab that quantified the new suspension's performance. 
The lab data collected indicated a significant improvement in all areas of measurable ride quality performance. The quantitative difference could be examined by comparing the vehicle's numerical ride characteristics, but for the qualitative differences, Link set its sights on logging a million miles of field-testing, using hardworking fleets and real-world conditions. 
The ROI Cabmate Semi-Active Cab Suspension System also features electronic height control. The system minimizes air consumption compared to traditional height control valves, because it does not fill or exhaust air in response to dynamic suspension motion. The system is designed to produce a better overall ride regardless of road surfaces and atmospheric forces, such as wind sheer. 
Request More Information
Fill out the form below to request more information about
Link Revolutionizes Cab Suspension Technology with ROI Cabmate