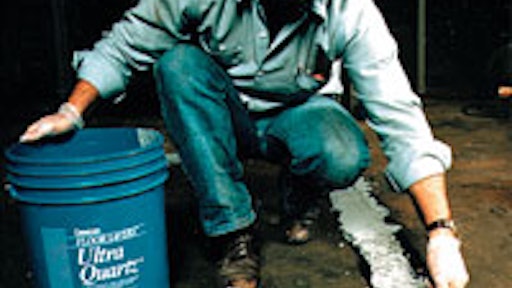 Devcon Ultra Quartz
Devcon Ultra Quartz is a heavy-duty, premium floor-patching system that is resistant to chemicals as well as abrasion.
Trowelable to a smooth, nonporous finish
Compression strength of 9,000 psi
Can be built up to a thickness of 1 in. on damaged or pitted concrete floors
Can also be used to repair overhead and vertical surfaces
Achieves full cure within 16 hours of application
White Lightning Polyurethane Concrete Repair
Krylon Products Group provides White Lightning Polyurethane Concrete Repair, a permanently flexible polyurethane sealant.
Ability to seal joints up to 1 in. wide
For interior and exterior use
Available in 10-oz. fiber cartridge and comes in a concrete gray color
Scofield Texturetop
Scofield Texturetop is a cementitious topping for restoring and texturing concrete hardscapes.
Can be imprinted to replicate appearance of stone, wood or other textures
For commercial, industrial or residential, interior or exterior use
Available in a full range of colors
Offers durability and abrasion resistance
Dayton Superior Sure Finish
Dayton Superior's Sure Finish is designed to make leveling the imperfections of new and old concrete surfaces simpler and easier.
High polymer-modified, cement-based product applied from a true feathered edge up to 1/2 in. thick for skim coating and flash patching
Ideal under VCT, sheet goods, tile, carpet and other materials that require a smooth and uniform surface
NewLife liquid pothole filler
NewLife Surface Solution's liquid pothole filler is a liquid cold pour solution for potholes and cracks for concrete pavement.
Two-part mix of polymers and aggregates creates a rubberized surface
Sticks to concrete, brick, asphalt, tile, etc.
Designed for use on industrial floors, expansion joints, bridge decks and roads
Can be applied in both warm and cold climates
Repairs are drivable in 40 minutes
Mapei Planitop 18
Mapei's Planitop 18 is a one-component, shrinkage-compensated, fast-setting, cementitious repair mortar that is suited for all interior/exterior horizontal concrete repairs.
Specially formulated for high-traffic areas, such as bridge decks and parking garages
Reaches final set in 25 minutes
High early compressive strength allows traffic to start moving in under an hour
Applied Technologies crack repair
CC 500 and A-Tech Wet from Applied Technologies are designed for crack repairs.
Nonshrinking
When cured, form a closed cell foam that prevents water penetration
Fast curing
Meadow-Crete FNP
Meadow-Crete FNP from W.R. Meadows is a one-component, flowable, shrinkage-compensated, corrosion inhibitor enhanced repair mortar for structural applications.
Can be formed and poured or pumped
Low permeability
Ideal for repair of beams and columns
V-Seal CR Epoxy
V-Seal CR Epoxy from Vanberg Specialized Coatings forms a chemical and wear-resistant barrier in cracked or weak concrete.
Penetrates and bonds to concrete surfaces without acid etching
Works as primer for polymer coatings or stand-alone wearing coating
Sherwin-Williams Armorseal
Sherwin-Williams Armorseal ExpressPatch Fast Dry Urethane Patch Kit is a low-odor, waterbased patching material.
Designed to protect concrete from thermal shock, impact, corrosion and abrasion
May be applied directly to damp concrete
Suitable for use in USDA-inspected facilities
Lily CD15 concrete crack repair
Lily CD15 concrete crack repair epoxy can penetrate voids as narrow as .002 in.
A full day of instruction in the field under someone who has done injection for at least 20 years is included with the purchase of a CD15 dispenser
Quikrete Concrete Resurfacer
Quikrete Concrete Resurfacer renews spalled, aged and cracked concrete surfaces indoors and outdoors.
Can be sprayed, pumped, poured or broom-applied
Can handle foot traffic after 24 hours and vehicle traffic after 48 hours
One 40 lb. bag will cover approximately 20 sq. ft. at a 1/4-in. thickness
No special curing or sealer is required
Roadware 10-minute Concrete Mender
Roadware's 10-minute Concrete Mender repairs cracks and spalls in concrete by penetrating deep into concrete surfaces and clinging to aggregate within the concrete.
Applies at a viscosity less than 8 cps and will absorb into concrete faster than water due to a surface tension one-third of water
May be applied at a wide temperature range — from below 20 degrees F to more than 100 degrees F — without modification