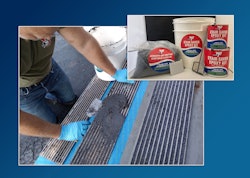 Wooster Products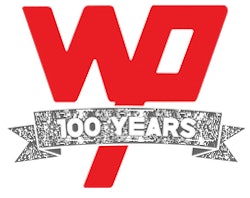 Wooster Products has introduced the Stair Saver Epoxy Kit, which rejuvenates non-slip stair nosings and treads, restoring them to like-new condition. This kit restores various brands of nosing or tread where the abrasive fill is missing.
Treads repaired with Stair Saver meet or exceed all codes and standards for coefficient of friction. The Stair Saver Epoxy Kit is for interior or exterior usage on various brands of nosing or tread and can be applied in less than two hours. Repaired treads are ready for foot traffic in just 24 hours.
Each Stair Saver Epoxy Kit contains all the materials needed to repair a 40-ft. section of a typical 3-in. nosing, including black abrasive non-slip media, a two-part epoxy, a 4-gal mixing bucket, stir sticks, towels, a rib cleaning tool to improve the aesthetic of the filled tread and a drill bit for mixing the kit.
"Across the country there are stairs that no longer provide non-slip protection because the abrasive is missing. Stair Saver economically addresses the need to repair those empty nosing and treads," said Wooster Products research and development manager Matt Gray. "Now users can transform the empty nosings from trip hazards to true non-slip surfaces, as the newly repaired treads meet or exceed all codes and standards for coefficient of friction. No special tools or skills are required. Stair Saver repairs empty nosings and treads no matter who made the product initially."
Request More Information
Fill out the form below to request more information about
Wooster Products Showcases Stair Saver Epoxy Kit