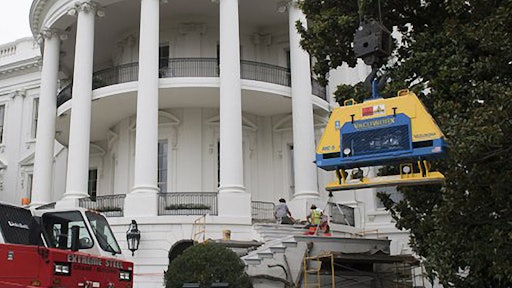 The South Portico of the White House was originally constructed during the Monroe administration in 1824. New steps constructed of Missouri limestone with a concrete base were erected in 1952, during the presidency of Harry S. Truman. This summer saw the start of a historic $1 million renovation project that would include dismantling the Truman-era staircases and installing carefully selected cuts of Missouri limestone.
Jessica Gordon, an exhibits specialist with the National Park Serivce's (NPS) Historic Preservation Training Center (HPTC), said a material handling solution that incorporated a Vacuworx MC Series vacuum lifting system proved advantageous as crews pulled two base stones weighing approximately 2,400 lbs. each, and set a total of 46 new slabs. Each new South Portico step – there are 21 located on the east and 21 on the west – is approximately 10 in. long, 7 in. deep and 20 in. wide. The four new landing stones are 11 ft. long, 7 in. thick and 6 ft. wide. Gordon worked directly with Vacuworx to rent an MC 5 lifter and three custom pad assemblies. The carrier equipment was rented from Extreme Steel & Rigging, based in Warrenton, VA.
The MC 5 operates using a self-contained diesel engine. When activated, the system pulls a vacuum between the pad and object to be lifted, providing a powerful positive seal. Eliminating the need for straps, Gordon noted, saved crews nearly 8 hours as she estimates that method would have required an additional 10 minutes per limestone step during the installation process. The application of vacuum lifting also mitigated the risk of chipping the top-grade material by prying on it with a bucket or fork, and curbed the possibility of damaging an adjacent patio on the South Lawn.
"We're moving, fitting, lifting, spreading the mud and laying it down," Gordon said. "All the re-handling - it adds up. With the remote operation, we can safely pick up and maneuver materials without compressors, hoses or other accessories presenting trip hazards. What really sold us is that everything is self-contained, in one unit."
The project commenced on August 5 and was completed August 30, 2017. Vacuworx vacuum lifting systems were also used by the NPS to help rehabilitate the steps that guide visitors to a memorial building at Abraham Lincoln Birthplace National Historical Park in Hodgenville, KY.
Companies in this article