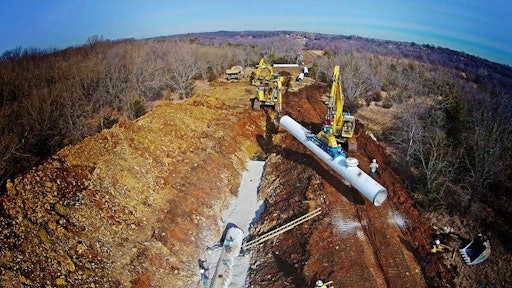 Hired to build approximately five miles of coated steel pipeline, Kansas City-based Kissick Construction Co. has wrapped up the year-long water distribution line project ahead of schedule and under budget with the assistance of vacuum lifting technology.
Kissick was retained by the independent public utility WaterOne on behalf of Water District No. 1 of Johnson County. The contractor installed the 48-in.-diameter pipeline as part of the Hedge Lane pump station, reservoir and pipeline project in rural Kansas.
Video: Hedge Lane Project 48 Inch Main installed by Kissick Construction
Kissick began work in September 2014, as crews conducted surveys and started clearing trees west of and running parallel to Interstate 35. By November 2014, the heavy civil contractor was facing winter as pipelaying teams commenced activities in the lane.
Komatsu PC600 hydraulic excavators were used to dig, while a Vacuworx RC Series pipe-handling system attached to a Komatsu PC400 unloaded the 10 to 12 trucks that arrived daily over the course of 12 months to various staging points on the route. Altogether, Kissick accepted delivery of more than 24,000 linear feet of pipe, which was typically laid out in 50-ft. sections along the right-of-way.
The Vacuworx RC 16, with a lifting capacity of 16 t (35,200 lbs/), is rated to handle 4-in.-diameter pipe and up. The unit is powered by a self-contained diesel engine and operates via wireless remote. It features 360° of hydraulic rotation for precise placement of materials without the use of hooks, chains or slings – and with fewer personnel on the ground.
Prior to its experience with vacuum lifting, Kissick had been employing the use of nylon slings, which required up to three additional workers to hoist heavy-duty pipe and lower it into a trench. The Midwest-based contractor at first rented the Vacuworx System, but within three months made a decision to purchase the attachment as crews realized greater efficiencies compared with conventional pipe-handling methods.
"The way they stack pipes on the truck, it is about 10 to 12 ft. off the ground," said Chris Oxford, Kissick project superintendent. "I just didn't really like laborers going up there and crawling around, especially with frost or in inclement weather. Without Vacuworx, I would be using four people to maneuver one pipe weighing in at around 12,000 lbs. It usually took two guys just to get the slings on. Now there is no need for anyone to be up there anymore."
Rough Terrain
Kissick is no stranger to taking on rural terrain, as demonstrated by a portfolio comprising projects of all sizes and degrees of complexity, including earthwork, utilities, bridges and structural concrete, among other heavy-duty applications in critical construction environments.
With regard to Hedge Lane, uneven ground proved challenging. Kissick was required to cross numerous roads, creeks and railroad lines. Oxford said vacuum lifting saved time and allowed crews to run more effectively, in spite of some unforgiving landscapes.
"This was a demanding job in that there was a lot of ups and downs, around the corner applications," Oxford said. "It saves a lot of time not having to rig up the pipe, especially when you have two excavators running on the site. We got a rhythm going on those long, straight runs... The Vacuworx machine gives our operator complete control, making it easier to lay and connect pipes in the ditch. In other situations, it was worth having just for the unloading part."
Kissick has years of material-handling experience with PVC or reinforced concrete pipe. The Hedge Lane project presented a new opportunity to work with a coated steel product that requires the performance of a Holiday test as a method of detecting scratches, pinholes, voids or undesirable discontinuities.
"There is a special, time-consuming protocol to patch or repair this type of protective tape coating," Oxford said. "In hotter weather, the slings have a tendency to cut into the tape wrap and damage it. Any movement of the tape or appearance of an air pocket would mean having to redo it. The Vacuworx system reduced the potential for any damage. We simply picked up each piece, ran our continuity test, patched if necessary and repositioned the pipe in the trench – all while maintaining a high level of safety and productivity. It just sped up the whole process compared with the old, traditional ways."
Divide and Conquer
Kissick Project Manager Matt Rothermel said the company strives to foster innovation by pairing new technology with the expertise of team members. The contractor values these types of collaborations, he said, as they relate to proven engineering practices and the core of its heavy civil construction services.
Given it was the first time Kissick had worked with this specific type of coated pipeline, Rothermel said there was more than one school of thought in terms of how to handle it in the field. "Our guys are always on the lookout for new ways to help us improve on our estimates, whether it's matching new software with an application or coming up with a simple tool for use the field," he said. "It has a lot to do with quality and a lot to do with safety. They ultimately hone in on and tweak what works best. Now they can do it faster, too."
One aspect of Kissick's decision to purchase a vacuum lifting system revolved around the versatility associated with the Vacuworx brand. "The first time we laid eyes on it was in Tulsa," Rothermel said. "We don't like buying toys, per se. For us, it's more about making an investment and capitalizing on the return of providing good service to our clients. This isn't just for one kind of pipe or a specific piece of carrier equipment. We can take the machine and outfit it with different pad systems. That sets us up for a wide variety of applications."
"Our customizable pad systems are manufactured to be highly effective with delicate materials or coatings, and are available with quick-coupler systems for superior adaptability," said Randy Hayes, Vacuworx National Sales Director. "Our customers appreciate these advantages and overall usefulness of vacuum lifting technology. It presents a faster, smarter and safer material-handling solution – in an array of rigorous working environments and weather conditions. We worked closely with Kissick and developed a system that is intended to meet both their short- and longer-term needs."
The construction phase of WaterOne's estimated $65 million Hedge Lane project in Southern Johnson County kicked off in spring 2014 and is scheduled for completion early next year. The pipeline, a localized pump station and a 7.5-million-gal. reservoir were commissioned by the municipality, which is located about 20 miles from its water source, to maintain service and shore up underground storage capacity for more than 400,000 people in a 272-square-mile area.
Kissick completed its portion of the Hedge Lane project ahead of schedule in early 2016.
"It was pretty simple on my end," Oxford said. "When I don't have to have those three guys on the ground unloading pipe, that saves money. "It relates back to how much you can cut down on manpower or boost productivity in other areas. If somebody sat down and put ink to paper, it wouldn't take long to see how a machine like this pays for itself."
"This kind of installation can be very time consuming," Rothermel said. "We took a bit of a risk. And we got the production we were banking on."