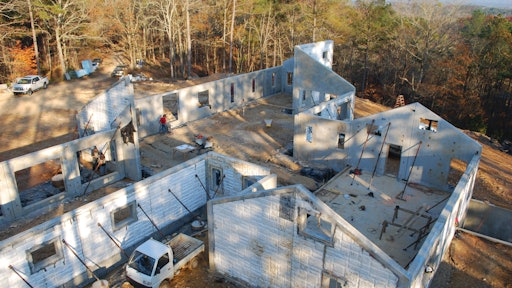 The roller screed's portability is a huge benefit and the reason Tommy Taylor of Taylor Corporation chose to use it while building his new concrete home. Taylor's 6,000-square-foot residence is being built with tilt-up sandwich panel exterior walls. A total of 5,700 square feet of tilt-up was used, Taylor says. Because the jobsite was not big enough to cast the panels in place, Taylor and his crew cast the panels at two separate locations one half mile from the jobsite.
Normally, Taylor uses a vibrating truss screed, but the need to move the screed from the tilt-up site to precast site required him to find a better option. He purchased a Spin Screed roller screed for the job. "The roller screed is simpler to use and easy to transport between locations," Taylor says. "I wanted something lighter, easier to manage and easier to clean up."
A truss screed would have been a hassle to clean and transport every time it was needed. With the Spin Screed, Taylor was able to use a wet cloth to wipe the concrete paste off the screed pipe before putting it into a truck and moving it between the precast sites and the tilt-up location.
At the precast site, Taylor and his crew poured the panels horizontally using an 11½-inch edge form and a Fitzgerald Ashlar Stone liner panel for the exterior. He used wire and #3 rebar for reinforcement and then poured 3½ inches of concrete into the form for the exterior facia wythe. An insulation board and Delta ties were placed on top of 3½ inches of concrete and then the concrete sat for one day. The next day they poured another 6 inches of concrete and used the Spin Screed to screed the top of the concrete. "I didn't notice any finish difference between the roller and the truss screed. The Spin Screed got a good paste up so it finished fairly easy," Taylor says.
The panels were transported to the jobsite on a flat deck truck and Taylor used a crane to tilt the panels into place.
The Spin Screed is also being used to finish the concrete floors, which Taylor says will also be stamped.
This was the first time Taylor used a roller screed on a tilt-up project, and he says he plans to continue to use his Spin Screed for future jobs. "It's a lot quicker to go from one pour to the next. It also eliminates some of the people and equipment required with a truss screed."
Companies in this article