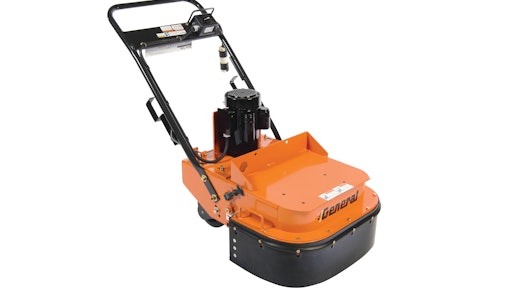 General Equipment Company

General Equipment Company's M-Series electric-powered, dual-head surface grinder line work with a wide range of industry-standard magnetic type attachments, including those in General's MAGNETACH Tooling System or attachments utilizing the Lavina/EDCO magnetic tooling mounting configuration.
The M-series grinders feature two 12-inch steel discs. The 250-RPM counter-rotating discs balance forces to help reduce operator fatigue and enhance machine control. Various attachments can be used with the machines to break up deposits of grease, dirt, rubber carpet backing and industrial residues from floors; clean concrete, asphalt and tiles; produce exposed, decorative slabs; and perform a wide range of general concrete grinding job applications.
There are three electric models designed to accommodate various power needs. The SG24EM (pictured) features a 2-horsepower electric motor that operates from a 115 VAC, 60Hz, single-phase power source and can also be field wired for 230 VAC operation. The SGE3HP50M includes a 2.5-horsepower motor that operates from a 220 VAC, 50 Hz, single-phase power source. And the SG24E3HP60M is equipped with a 3-horsepower motor that operates from a 230 VAC, 60 Hz, single-phase power source.
All surface grinders feature a unitized, welded steel plate frame, V-belt drive, heavy-duty spur gear transmission, and a central lubrication system. An adjustable full-width, tubular-designed operator handle maximizes leverage and control, while minimizing fatigue. Additionally, to reduce possible damage to vertical walls and other obstructions, the surface grinders are built with a removable front and side-wrap rubber bumper. A 3-inch dust collection port and removeable dust shield are standard.
Compatible attachments within General's MAGNETACH Tooling System include a PCD Coatings Removal System, Tungsten Carbide Coatings Removal System and Diamond Segment Diamond Grinding System, all of which feature magnetic retention for quickly and easily switching attachments.
Request More Information
Fill out the form below to request more information about
The M-Series Electric Surface Grinder Line