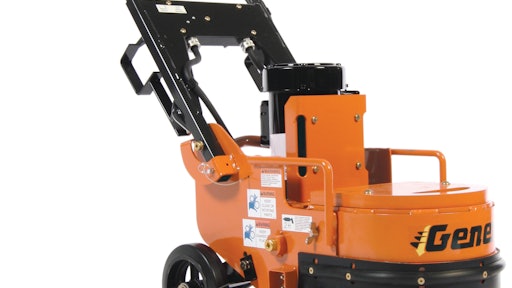 General Equipment Company

General Equipment Company's SG12EM M-Series single-head surface grinder offers high performance, durability and ease-of-use for both professional contractors and do-it-yourself homeowners completing smaller-scale surface preparation projects. The new model works with a wide range of industry-standard magnetic type attachments, including those in General's MAGNETACH Tooling System or attachments utilizing the Lavina/EDCO magnetic tooling mounting configuration.
The SG12EM features a single rotating disc with a 12-inch working width. Its 1.5-horsepower electric motor operates from a readily available 15-ampere, 115 VAC single-phase power source that can be found on most jobsites. The single V-belt drive offers a top disc rotation speed of 250 RPM, which is ideal for a wide range of applications such as grinding concrete surfaces, removing mastics, adhesives, epoxies and urethanes, breaking up deposits of grease and dirt, removing rubber carpet backing and industrial residues, and a multitude of other concrete grinding projects.
Built for portability, the SG12EM includes a folding handle that makes it easier to transport in today's smaller vehicles. Additionally, the compact frame design and wheel position allow for simple maneuvering up and down stairwells. The fully adjustable handle height better accommodates the user, providing a more comfortable operating experience.
The SG12EM's unitized, welded-steel plate frame includes an integrated bail design for loading and unloading with a forklift. Extra capacity, self-aligning ball bearings, a heavy-duty V-belt reduction drive system, spur gear transmission and central lubrication system are standard for optimum durability. A removable safety and dust shield surrounding the rotating disc helps contain airborne dust and limits material contamination, while also protecting the machine's internal components from damage. A 3-inch diameter dust collection port is also standard.
For maximum safety, the SG12EM includes the exclusive QUIK-STOP™ motor switch that immediately stops the grinder's motor in the event the operator loses control of the machine. A 37-foot-long extension cord is standard, complete with a GFI for added safety.
Compatible attachments within General's MAGNETACH Tooling System include a PCD Coatings Removal System, Tungsten Carbide Coatings Removal System and Diamond Segment Diamond Grinding System, all of which feature magnetic retention for quickly and easily switching attachments.
Request More Information
Fill out the form below to request more information about
The SG12EM Surface Grinder