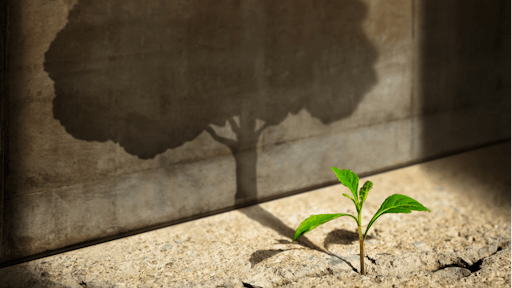 blacksalmon--stock.adobe.com
Professionals and business people in the concrete and construction industries know what it is like to be used as a whipping boy by advocates for the environment.
"Concrete is Worse for the Climate than Flying," states one headline on Inside Climate News. "Why Aren't More People Talking About It?" Even environmental activists seem to acknowledge, however that concrete as a whole looms large in its carbon footprint because there is just so much of it. Heatmap points out that there will soon be more concrete than biomass on earth. The vast majority of this carbon impact is due to cement manufacturing, which produces carbon as a byproduct of the chemical process and this, combined with fossil fuel consumed in manufacture of cement and other concrete components and the concrete mix itself, helps concrete generate more embodied carbon than air travel according to the International Energy Agency (IEA).
Cement alone is responsible for more than 50% of embodied carbon from concrete and 8% of total global carbon emissions in total, more than any country apart from China or the US, according to Carbonbrief.
Cement is even more key to reducing carbon footprint from concrete because while concrete can be rubblized and re-used as aggregate, the chemical process that makes cement a binding agent cannot be reversed, so new cement will still be required. Concrete can also be cut into blocks and re-used.
Cement manufacturers and concrete producers, including industry giants, are uniting to set aggressive goals for carbon reduction or even carbon neutrality.
A Known Issue
Globally, the concrete and cement industries have set aggressive targets for reducing embodied carbon, and any conversation with major materials producers makes clear that sustainability is a serious priority driven in part by environmental, sustainability and governance (ESG) investing.
The Global Cement and Concrete Association (GCCA) is targeting net zero concrete by 2050, and a 25% reduction in carbon emissions by 2030.
The Cement Sustainability Initiative, a collaborative of 24 major cement producers, has outlined collective and individual actions the group and its members can take to reduce the impact of cement.
The Portland Cement Association has laid out its Roadmap to Carbon Neutrality, which targets impacts from:
Clinker, the precursor to cement
Cement
Concrete
Construction including service life and use impacts
Carbonation, a threat to concrete durability
On the Digging Deeper Podcast in August of 2022, Portland Cement Association Vice President of Sustainability discussed the levels of investment flowing into mitigating the impact of cement on the environment, including a $55 million towards Brimstone Energy—which is working towards a carbon negative Portland Cement that is also lower in cost. This is a sizable funding round for what had been a pre-revenue company, and IRONRPOS and FORCONSTRUCTIONPROS will follow their progress. The company is relying on carbon-free calcium silicate rock instead of limestone to manufacture cement.
Already, the industry has reduced environmental impact from cement and concrete by using industrial byproducts to replace cement or aggregate. In a number of cases, ready-mix and precast providers are creating proprietary products with specific environmental performance characteristics. Clark Pacific, for instance, in 2022 launched iits CARBONSHIELD proprietary mix. Megaslab offers its sustainable jointless flooring system. Both products claim about a 50% reduction in embodied carbon. Admixture manufacturers are also marketing products to help producers generate green mixes.
But how do these greener concrete products make it to market? And how do owners and building teams quantify the reduction in embodied carbon these products can produce, both as a result of more sustainable manufacturing but over the lifecycle of a built asset?
Tech for Specifying Green Concrete
As greener concrete comes to market, it needs to be included in product design by specifying architects and engineers. And technologies are coming to market to help these professionals quantify these environmental advantages. These tools take into consideration the materials itself, water and resources consumed, distance the material needs to travel to the building site and more.
"Being able to accurately model your concrete's embodied carbon is the first step to quantifying the impacts of lower-carbon alternatives and delivering a big reduction on your project's overall footprint," GreenBadger Founder and CEO Tommy Lindstroh said. "Using innovative tools that can more easily track embodied and operational carbon during construction will soon become the norm rather than the exception."
Lindstroh, a LEED Fellow, leverages his company's software to help specifiers and building teams earn Leadership in Energy and Environmental Design (LEED) credits by reducing carbon, energy, water, waste, transportation and materials while increasing health and indoor air quality.
"New technology and Green Badger's constantly updated product database make embodied carbon tracking oversight and side-by-side comparison relatively easy," Lindstroh said. "Advanced, complicated computations can now be automated allowing general contractors to quickly plug in alternative concrete mixes to derive different impacts and mitigate environmental impact. Documenting the carbon impact of alternative concrete mixes is a significant help with any green certification process, like LEED, as well."
Saint Gobain Construction Chemicals has its own line of concrete admixtures including EnviroMix, which reduces the carbon footprint of concrete by reducing cement use by 10% while also reducing water usage and increasing early and late stage strength.
But the company also offers its own mix specification tool that according to Chryso/GCP, Saint Gobain Construction Chemicals Sustainability and Customer Engagement Program Manager Lisa Barnard can be used to specify mixes well beyond those that include the company's products.
"The EnviroMix Impact pre-diagnosis calculator is a tool for optimizing concrete mix designs," Barnard said. "Through our sales, technical service, and regional application labs, we assist concrete producers in characterizing their materials, defining targets which ultimately allows us, alongside our customers, to develop a mix design optimized not just for cost but also CO2 reduction. This tool and process allows concrete producers to compare mixes and adjust various design levers, such as decreased cement, increased SCM use, water, coarse and fine aggregates – whether to use natural or manufactured sands, choosing the appropriate admixture package for defined performance targets. In summary, the calculator helps optimize the mix design strategy for a given application and performance requirements. The final output allows our customers to compare alternate mix designs against cost, and CO2 impacts for the mixes and material, transportation, and water."
A building team needs to have thorough information on their mix designs to use the product—users need to have mix designs including materials and coasts, data on transportation distance and method and materials including supplementary cementing materials, admixtures and fibers.
"If any of the materials have product specific Environmental Product Declarations (EPDs) that information can be input as well to dial in the final numbers as closely as possible," Barnard said. "The current version of the calculator is very detailed; an app version will be launched late Q2 that will be even more streamlined to work more quickly with customers. The calculator version can essentially produce the same information as an EPD but it would only be for customer use as a decision-making Apart from data supplied by the user, EnviroMix Impact relies on public data sources including industry averages. Where product specific data is available such as specific cement EPDs and Saint Gobain's own admixture EPDs.
Last Mile to The Site Green Concrete Tech
Once the concrete is specified and mixed, the route it takes to deployment also matters. Software used to dispatch and route concrete trucks, like products from Sysdyne, Samsara or Command-Alkon, can increase the efficiency of drivers, reducing miles driven and fuel consumed.
But these technologies can do more than just manage the route—they can provide enough visibility into the condition of the concrete in the drum mixer to help reduce the amount of concrete sent to landfills.
In a recent ForConstructionPros article on Heidelberg Materials' rollout of CommandASSURANCE, Heidelberg Materials Quality Control/Technical Services Manager for SE Region Ready Mix Scott Kelley described how an innovate sensor internet of things (IoT) sensor inside the drum was helping the company reduce waste.
"Knowledge is power," Kelley said. "When you are in the quality control role, you are put into some situations where you have to defend yourself by digging into the forensic side of concrete. He who has the most data usually wins. The temperatures in particular are key to the ability to reuse concrete. We have for a long time been able to track load times and batch times. But now being able to monitor slump, moisture, temperature, materials and volumes, these are the key components you were not able to track together and now you can."
A precise set of data on what is happening in the drum is crucial to supporting decisions about whether or not to re-use a partial batch.
"We can then add that to or send it to a different order, or load on top of an order depending on parameters the quality control team and I set up," Kelley said. "That has saved us a pretty good bit of money in terms of being able to reuse that concrete instead of haul to landfill and get rid of it. Our broader focus is on sustainability, but this is one of the bigger areas of hard ROI for this technology. In our Alabama business, our ability to use returned concrete was zero—we did not do it. You have to have a way to measure it to meet ASTM guidelines for reuse."