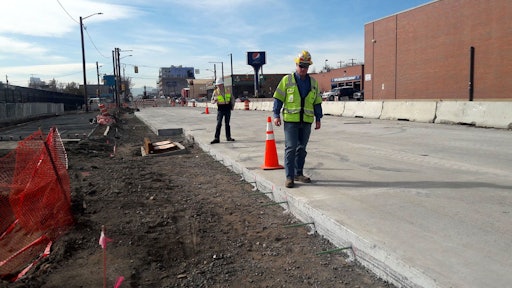 On August 30th, Integrated Roadways plans to add its "smart pavement" to an intersection in an industrial corner of Denver, CO. The company has encased assorted electronics within four slabs of concrete and will wedge those slabs into the road between a Pepsi Co. bottling plant and two parking lots.
Integrated Roadways says its product, which can deduce the speed, weight and direction of a vehicle from the basket of sensors buried in the pavement, will face its first real-world test at that discreet Denver junction.
The company can then use that data to alert authorities to accidents, or prompt officials to reconfigure lanes to relieve congestion. It's one approach to so-called "smart roads" that aim to combine sensing and intelligence in ways that reduce the hazards and hassles of vehicular travel.
If all goes well in that first test, Integrated Roadways will replace 500 meters of pavement along a dangerous curve in Highway 285, just south of Denver, with its product in early 2019. The goal is for the pavement to detect when a driver careens off the road's edge—the kind of accident that happens dozens of times every year on Colorado's mountainous highways.
Amy Ford, director of communications for the Colorado Department of Transportation (CDOT), says that section of highway cannot easily be widened and is too narrow to support the addition of a guardrail. When accidents do occur there, it's crucial to alert emergency responders as quickly as possible.
"I think that's kind of the Holy Grail [for smart roads]: to figure out how you can reduce the time to discovery or recognition of an incident, whether that incident is a run-off-road [collision], or an accident, or a sofa that's fallen into the street," says Brendan Morris, an associate professor in computer and electrical engineering at the University of Nevada, Las Vegas (UNLV) who has worked on other smart road initiatives. 
CDOT has given Integrated Roadways a total of US $2.75 million for both projects. Elsewhere, smart roads monitor traffic, direct drivers to vacant parking spaces, automatically issue speeding tickets, or warn of icy roads ahead. Still others measure air quality or listen for gunshots. Almost all of these systems feature some mix of sensors, processing, and fiber optic cables or wireless networks.