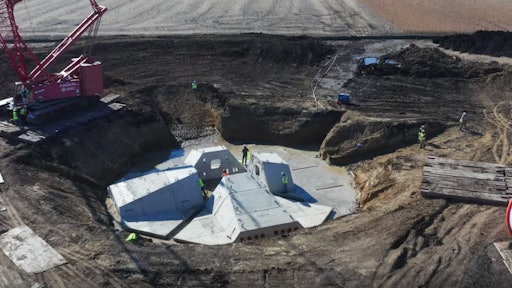 RUTE Foundation Systems/YouTube
Oregon-based RUTE Foundation Systems has developed a new concrete-saving, CO2-reducing foundation system for wind turbine towers. It was recently awarded the 2019 Merit Award from the Post-Tensioning Institute, based on the first installation of the foundation technology in southwest Minnesota.
An industry first, the modular wind turbine tower base cuts the amount of concrete needed by 75 percent over the life cycle of a wind farm and reduces CO2 emissions, reports the Marshall Independent. 
"Using our precast, segmental foundation at a single 60-tower wind farm would keep about 65 million pounds of CO2 out of the atmosphere," Doug Krause, CEO of RUTE Foundations tells the Independent. "This CO2 reduction is realized through lower concrete usage, a much longer life cycle of our precast components, and the fact new wind farms can come online a month earlier because our foundations don't have to cure."
Traditional poured-in-place foundations require concrete footings that are 60 feet in diameter, weigh almost 2 million pounds and use 40 truckloads of concrete, or approximately 400 cubic yards. According to the Independent, curing that amount of concrete takes weeks before towers can be installed, and the life of the structure is less than half that of the RUTE foundation, which can last 60 years.
The precast, modular components in the RUTE system are made in beam manufacturing plants and use post-tensioning technology (a method of strengthening concrete with high-strength steel strands common in bridge construction).
The first RUTE 30BX Foundation was installed at Palmers Creek Wind Farm in Granite Falls, Minn., last November. RUTE partnered on the project with VertueLab and a team of engineering and construction firms, including Structural Technologies/VSL, RUTE's post-tensioning partner based in Maryland.