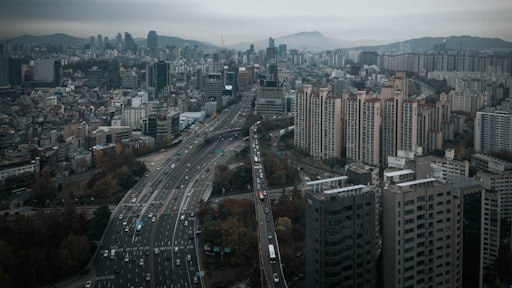 Alex D'Alessio/Unsplash
In recent years, South Korea has undergone an aggressive highway-building campaign, resulting in a growing network of complex roadways and tunnels. Much of the network has employed the use of an innovative surface treatment developed in the United States known as the Next Generation Concrete Surface (NGCS). 
Developed by the International Grooving & Grinding Association (IGGA) and the American Concrete Pavement Association at Purdue University between 2006 and 2008, NGCS was designed to reduce noise levels without tires losing their grip on the road surface. NGCS uses a combination of diamond grinding and grooving on the concrete surface to achieve this. According to an article in Tunnel Business Magazine, NGCS surfaces are smoother and flatter than ordinary pavements, and they have a consistent profile with a predominantly negative texture, absent of positive or upward texture elements.
Two factors have influenced the wide use of NGCS in South Korea, including the challenges posed in tunnel construction. Unless the pavement surface is carefully constructed, the tunnels can be noisy and prone to vibration.
In addition, the article notes that because expressways are owned and maintained by corporations and drivers must pay to use them, road owners are expected to provide expressways that are free of congestion and comfortable and clean.
To help meet its goal of high-quality, safe roadways, the Korea Expressway Corporation (a company that constructs and operates an expressway network in the Republic of Korea and internationally) chose to use NGCS in its long tunnels.
In 2014, with assistance from its research institute, the Korea Expressway Corporation completed an NGCS pilot project. Since then, their research and implementation of NGCS has grown steadily. Today, all new expressway tunnels that are 2 kilometers (1.24 miles) or more in length have NGCS. Use of the surface is also expanding to national highways and local roads. There are nearly 1.5 million square yards (200 lane miles) of NGCS in South Korea.