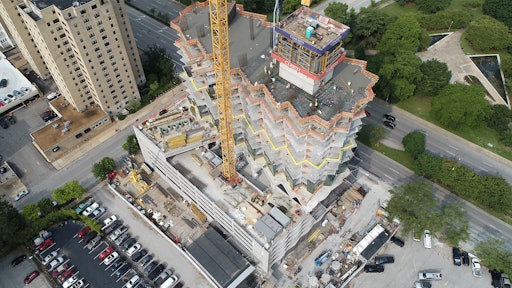 Clayco
Creative solutions were required for the post-tensioned slabs of One Hundred, a 36-story building under construction in St. Louis.
Contractor Clayco turned to 3D laser scans when handling the high-rise's irregular jagged concrete slab edges, which create a sawtooth footprint with no two floor plates alike. According to an article by ENR Midwest, the varying geometry of both floor slabs and perimeter columns requires precise positioning. If a floor slab is not placed correctly, the curtain wall won't fit.
Penetrations and embeds are also being matched using GPS coordinated from Trimble positioning devices.
Clayco crews are placing each unique floor slab on a one-floor-per-week cycle. Once placed, the slab is laser scanned and matched to a 1/4-in. tolerance. Using Autodesk Recap software, point clouds and laser scans are created from Clayco's scanning tools, which include drones. Scans and point clouds are overlaid onto the Revit construction model and each embed, terrace width, slab edge and penetration is matched.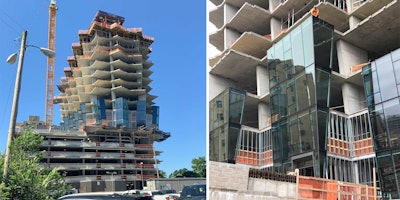 Faith Feng, technology integration manager for Clayco, tells ENR Midwest that the angle of inward slant of the building in degrees is also slightly different for each tier. Feng produced CAD files and shop drawings with details of the forms for the floor slabs, including the seven terraced floors. Once Clayco confirms correct positions, crews do an as-built scan.
"After our crews make the mold for the concrete, they scan and process the data," Feng says. "We then overlay the model with the point cloud so that we can go in and see the embeds, see where a wall is currently installed. We'll go really into detail."
Clayco has completed 19 stories of the 517,246-sq-ft tower to date and expects to finish the $130-million project by next summer. It will stand 385 ft.