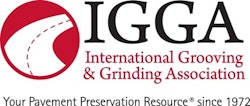 The International Grooving and Grinding Association (IGGA) – a non-profit organization dedicated to serving as the leading promotional and technical resource for acceptance of diamond grinding and grooving as well as pavement preservation and restoration – has announced the winners of its annual awards program.
Presented at the annual awards banquet, held in Indian Wells, Calif. on Nov. 29, the purpose of the program is to honor individuals and companies/organizations for lasting contributions made to the grooving, grinding and concrete pavement preservation/restoration industry.
The 2011 Concrete Pavement Restoration (CPR) Promoter of the Year Award was presented to two industry promoters at this year's banquet. Bob Long, Executive Director of the Mid-Atlantic Chapter (MAC) of the American Concrete Pavement Association (ACPA), and Craig Hennings, Executive Director of the Southwest Chapter of the ACPA were selected. The award recognizes an individual or company each year for exemplary efforts towards promoting diamond grooving, grinding and CPR.
Long has been with the ACPA MAC since 1993. With responsibility for the Association's promotional efforts in Virginia, West Virginia, Maryland, Delaware and the District of Columbia, Bob conducts and coordinates activities with departments of transportation, aviation authorities, municipalities, consulting engineers and the military to promote the use of quality concrete pavements in the transportation market. He is being recognized with the Promoter of the Year Award for his tireless efforts in the West Virginia, Virginia and Maryland markets in promoting CPR.
Hennings has been a member of the ACPA Southwest Chapter for the past four years. With responsibility for promotional efforts in California and Nevada, Craig aggressively promotes proper design, specification and construction of new concrete pavements as well as the maintenance/preservation of concrete pavements in these states. Over the years, he has actively promoted concrete overlays in both states, holding training meetings and identifying concrete pavement preservation demonstration sites. 
The Operator of the Year (Iron Man) Award was presented to Dana Gillespie, Operations Manager of Interstate Sealant & Concrete (ISC) of Waukesha, Wis. The purpose of this award is to recognize the men and women who work in the field for their leadership with special emphasis on his/her dedication to quality and getting the job done right.
Gillespie has worked at ISC for the past four years and has quickly become a well-respected leader among the team. He was awarded with the Operator of the Year Award for his inspiration to fellow employees, guidance and overwhelming skill and knowledge on any jobsite.
This year, Abdul Dahhan and his team at the Illinois Department of Transportation (IDOT) have been selected to receive the Government Official of the Year for their foresight in implementing diamond grinding and concrete pavement preservation in Illinois. The Government/Public Official of the Year Award recognizes leadership in transportation activities with special emphasis on grooving, grinding and CPR.
Companies in this article