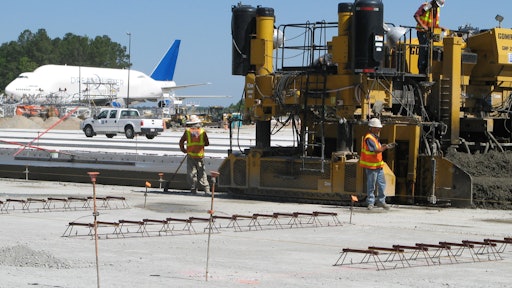 The American Concrete Pavement Association (ACPA) has named APAC-Tennessee's Ballenger Paving Division's work on the Boeing Expansion and Site Development Program in North Charleston, S.C., as a recipient of the 23rd  Annual "Excellence in Concrete Pavements" awards, which recognize quality concrete pavements constructed in the United States and Canada.
The expansion project took home gold in the Industrial Paving Category.
Project: Boeing Expansion, Site Development Program, North Charleston, S.C.
Contractor: APAC-Tennessee, Inc., Ballenger Paving Division
Owner: The Boeing Company
Engineer: AVCON, Inc.
APAC-Tennessee's Ballenger Paving Division's work on the Boeing Expansion and Site Development Program was part of South Carolina's largest construction project completed in decade, as well as largest single capital investment in the state's history. A project of this scale required superior coordination, attention to detail, and of course, a commitment to quality construction.
The contractor placed 8 inches of P-304 cement treated base, followed by 8-, 15- and 20-inch sections of P-501 concrete pavement. The complete concrete paving package also required both lay-out work and as-builts; quality control by the contractor and quality assurance/acceptance by the owner; joint sawing and sealing; and installation of trench drain. The project also required extensive coordination of utility and paving work.
For the overall project, Boeing selected BE&K-Turner, a joint venture of the BE&K Building Group and Turner Construction Co., to design and construct the project. The project, which broke ground in November 2009, included the design and construction of a 481,168-square-foot, 464-foot-high clear span final assembly building (FAB), along with 21 support buildings on 240 acres.
Ballenger was responsible for placing more than 338,000 square yards of jointed plain concrete pavement and continuously reinforced concrete pavement for the apron and taxiway, which support the manufacturing, assembly and transportation of Boeing's 787 Dreamliner airplanes.
The paving was originally phased and expected to be completed in seven clearly-defined, large phases. Because of schedule changes stemming from the construction of the massive FAB and support buildings, the paving schedule was impacted significantly. This required Ballenger to pave in dozens of phases and in much smaller areas of work than originally planned.
With more than 90 contractors and as many as 3,000 men and women working on site at any given time, Ballenger worked proactively to meet the needs for safety, scheduling, coordination, and, of course, paving. The contractor was responsible for coordinating vehicle access in and around the paving work zone throughout the project's duration.
Further complicating matters, the close scheduling of APAC's paving work alongside the work of other projects on site, was especially demanding because of the numerous block-outs that were required to accommodate on-going plan revisions, design modifications and the hundreds of different utility penetrations within and adjacent to the paving. These unanticipated changes needed to be addressed quickly because of the fast-track scheduling and brisk pace of this massive design-build project.
Another significant challenge was the 24-hour coordination and scheduling for the owner-furnished, on-site batch plant, which supplied concrete for the entire project. This became increasingly difficult as the project progressed through seasonal changes. The temperature extremes necessitated late starts on cold weather mornings and night paving as well as batching with chilled water, during the hot South Carolina summers.
APAC also received letters of commendation from James Lee, Area Manager for Global Performance, the owner's construction management firm, as well as Jim Kriss, P.E. Vice President of AVCON, Inc., the pavement design engineer, who had oversight of the pavement construction.
Despite encountering the constantly changing project phasing and other challenges, APAC and its team of subcontractors consistently met owner's project schedules and milestone dates. APAC successfully provided the owner a quality paving project on time, all the while maintaining a safe, accident free workplace for crews and others working in and around the area.
Companies in this article