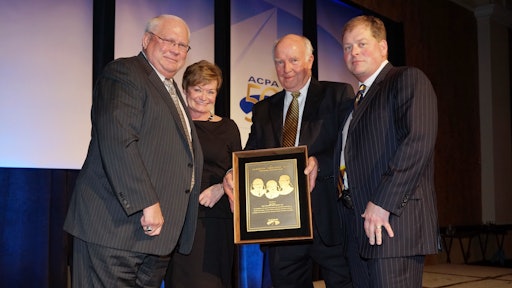 The American Concrete Pavement Association (ACPA) proudly presented the 2013 Hartmann-Hirschman-Egan Award to James (Jim) Duit, President of Duit Construction Co., Inc., Edmond, Okla.
The award recognizes Duit for 45 years of innovation and successful construction of concrete pavements, as well as selfless dedication and tireless advocacy on behalf of the industry and the American Concrete Pavement Association. Duit is the 45th recipient of the Hartmann-Hirschman-Egan Award since its inception in 1968.
Jim Duit has more than 44 years of experience in heavy and highway construction. He has been a tireless advocate for increased funding and for high-quality, smooth concrete pavements. Duit and his namesake company have a well-deserved reputation for solving problems and finding more efficient ways of completing jobs through "out of the box" thinking. In addition to building a successful business, he has selflessly contributed countless hours of service and made many sacrifices in support of the concrete pavement industry.
With more than 45 years as a contractor, Jim has served the concrete pavement industry in many ways. He embraced the importance of political involvement many years ago, and has participated on various political committees and testified before the U.S. House Committee on Transportation & Infrastructure in support of the American Recovery and Reinvestment Act.
Duit has been a tireless legislative advocate, participating in countless fundraising and networking events. He was instrumental in the advancement of the ACPA-led Accelerated Implementation and Deployment of Pavement Technologies (AID-PT) program, an initiative that was co-developed with the National Asphalt Pavement Association, and which was made possible with the assistance of Senator Jim Inhofe (R-Okla.).
Duit was a charter member and a central figure in the formation of the Oklahoma/Arkansas Chapter-ACPA. He has served in key leadership positions since the inception of the Chapter, and also served as the 2001 Chairman of the ACPA Board of Directors.
He also served as President of the Oklahoma AGC; a director for the Innovative Pavement Research Foundation; a member of the American Road & Transportation Builders Association; and a board member of Restore T.R.U.S.T (Restoring Oklahoma Roads with Trust).
His contributions in promoting recycling of concrete pavement resulted in his being names a co-winner of the NOVA Award, which formally recognized the Paradigm in-place concrete pavement recycling system. The Construction Innovation Forum's NOVA Award captures the spirit of international construction innovations, and recognized the results of his confidence that he could put tracks on a crusher and "walk" it down the road. The idea worked, and the concept has changed concrete pavement recycling.
Also in the area of technology and technical contributions, Duit has led and participated in many specification rewrites. He also was instrumental in the implementation of fabric as a bond breaker in lieu of asphalt for unbonded concrete overlays. This innovation has helped increase the cost effectiveness and use of unbonded concrete overlays across the country.
He has contributed to many publications and guides produced by the American Concrete Pavement Association, as well as numerous technical advisory boards, committees, and task forces. He also has served as a contributing author to many ACPA and National Concrete Pavement Technology Center technical resources. He also participated as a representative of ACPA in two of the most recent European scan tours, fact-finding missions led by the Federal Highway Administration (FHWA).
Duit's innovative thinking and progressive tactics to solve problems has contributed to a positive perception of the concrete pavement industry. His views on association members working together has helped unify the industry around common interests, and has had a profound effect on the development and growth of the industry and the association for much of the past 50 years.
In every year since 1998, Duit Construction Company has earned first place or runner up in ACPA's Excellence in Concrete Pavement Awards program. At the same time, these awards have recognized agency/owners in Oklahoma, Arkansas, Kansas, and Texas.
On a personal note, Jim's views on contributing to the quality of life and building a future for all Americans through infrastructure are of unparalleled significance. His company is built on the concept: "To be the industry leader in fast, innovative, and safe infrastructure contracting, bringing quality infrastructure to life." At the same time, Duit has made a personal commitment and significant commitment to safety, all with the goal that everyone in or near a Duit construction work area should come home safely at the end of the day, while also feeling good about what they accomplished, notably that they have built a better America. One example of Duit's commitment to safety was the company's significant contributions to a web-based training module on safety in the concrete pavement construction workzone, developed by ACPA and sponsored by the FHWA.
Companies in this article