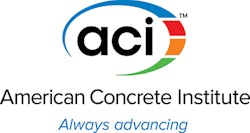 The American Concrete Institute (ACI) announces the winners of its 2014 Mortar Workability Competition, and Egg Protection Device Competition. The competitions took place at the ACI Fall 2014 Convention in Washington DC, USA. The first, second, and third place teams in each competition receive cash awards of $750, $500, and $250, respectively.
The objective of the Mortar Workability Competition is to create a mortar mixture with optimum flowability and stability. Students mixed mortar at the convention competition site and their mixture poured into a mold made in the shape of the letters ACI from the top of the letter "a". Both flowability and mixture stability were evaluated. Teams had to pay careful attention to the specified material requirements just as concrete producers must meet specification and project requirements on a daily basis.
1st Place: Texas State University: Brian Ledsinger, Alex Butkhart, Amy Ramos, Cole Pilgrim
Faculty Advisor – Dr. Jiong Hu
2nd Place: Universidad Autonoma de Nuevo Leon: Francisco Saúl Cardona-Rivera, Paola Guzmán-Reyes, Gustavo Martínez-Arizmendi, Ramiro Morales-Reyes, Oscar J. Zamarrón-Ramos
Faculty Advisor – Alejandro Durán-Herrera
3rd Place: University of Arkansas: Matthew Watters, Braden Davidson, Brendan Oman
Faculty Advisor – Frances Griffith
The objective of the Egg Protection Device is to design and build the highest-impact-load resistant plain or reinforced concrete Egg Protection Device, and to learn about concrete's sustainable benefits related to durability, impact resistance, and other real-life aspects which an EPD simulates.
1st Place: Universidad Nacional Autonoma de Mexico Team 1: Jesús Alberto Martinez Sánchez, Julio Cesar Cruz Silva, José Luis Cruz Silva, Rigoberto Marcos Candelario
Faculty Advisor – Josué Garduño Chávez
2nd Place: Universidad Autonomo Metropolitana – Azcapotzalco: Juan Carlos Trejo Juárez, Leiding Guadalupe García Gutierrez, Samuel Rodríguez Cosme, Brenda Gabriela Ortíz Casas
Faculty Advisor – Dr. Francisco González Díaz
3rd Place: Universidad Nacional Autonoma de Mexico Team 2: Hugo Adrián Martínez Nayer, Saul Hernández Ramos, Juan Carlos Mejía Suarez, José Ramón Pérez Castro Guillen, Alfonso Sebastián Terán Hernández
Faculty Advisor – Josué Garduño Chávez

For more information on ACI's Student Competitions, please visit www.concrete.org.