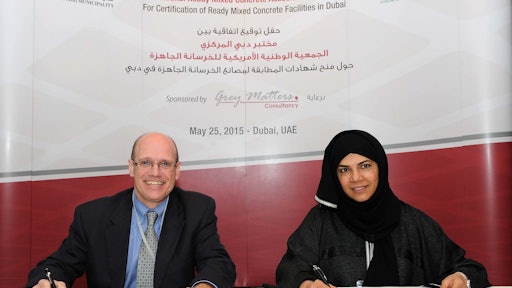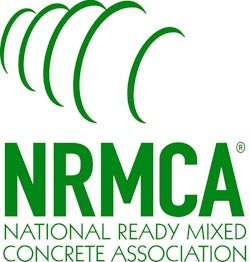 Representatives of the Dubai Central Laboratory of the Dubai Municipality (DCL-DM) and the National Ready Mixed Concrete Association (NRMCA) met for a signing ceremony in Dubai, United Arab Emirates, to establish a cooperative agreement to recognize technical equivalencies of their respective concrete plant and truck certification programs. Concrete, the most widely used building material on earth and long recognized as the material of choice for buildings and infrastructure around the world, requires careful and rigorous quality production and control methods to meet the rigors of different harsh environmental conditions, including the hot climate and marine environment in Dubai.
NRMCA has been administering its plant and truck certification program since 1965 and demonstrates compliance with standard specifications for ready mixed concrete. Established in 2012, the DCL-DM certification program for concrete production facilities works on similar principals to meet similar standards for concrete production in Dubai. The certification process for both the DCL-DM and NRMCA programs require extensive on site inspection by qualified individuals of both the production facility and delivery vehicles to ensure they comply with the standards and are capable of producing high quality concrete. Plants and vehicles require annual re-certification.
To recognize the equivalencies of the certification programs, NRMCA will now offer certificates to concrete plants operating in Dubai that have earned the DCL-DM plant and truck certification. Once a Dubai concrete plant goes through the DCL-DM audit and is issued a certificate, concrete companies can choose to obtain the NRMCA certification without the need for additional audit.
Eng. Hawa Bastaki, executive director of DCL-DM says, "We are proud to be signing this agreement with NRMCA to offer its certification to DCL-DM-certified plants and trucks. Now concrete companies in Dubai will not only be able to demonstrate their commitment to quality through the DCL-DM certification program but also take advantage of the internationally recognized NRMCA certification.
Lionel Lemay, senior vice president of NRMCA says, "NRMCA recognizes the excellent work Dubai Central Laboratory has done to develop its ready mixed concrete plant and truck certification program as a way to elevate the performance and quality of concrete production in Dubai. We look forward to a long-term partnership on this program and other NRMCA certifications in the future."
Over the next several months, NRMCA and DCL-DM will work together to establish the process for applying for the NRMCA certification. NRMCA works with Grey Matters Consultancy, a Dubai consulting company that offers the NRMCA plant and truck certification program in the Emirate of Dubai and throughout the Middle East along with dozens of other NRMCA personnel and product certifications.
For information about each program, visit www.dcl.ae, NRMCA Plant Certification or contact Grey Matters Consultancy at +971-4-8849525, inspection@greymatters.ws.
Companies in this article