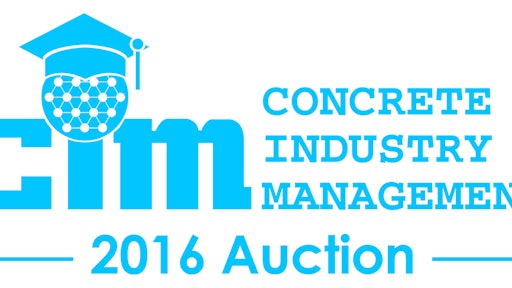 The Concrete Industry Management (CIM) program – a business intensive program that awards students with a four-year Bachelor of Science degree in Concrete Industry Management – is pleased to announce the following list of sports and travel packages available for their 11th annual Auction at the World of Concrete. The Auction is scheduled for Wednesday, Feb. 3 in the North Hall Room N262 of the Las Vegas Convention Center. The silent Auction is held from 11 a.m. to 12:45 p.m. PST and the live Auction begins at 1 p.m. PST.
"We have some tremendous sports and travel packages in the CIM Auction this year," says Mike Philipps, Chairman of the CIM Auction Committee, "These items offer the opportunity for some once-in-a-lifetime travel and the Auction supports a great cause."
This year's CIM Auction offers bucket list sports and vacation packages including: The Masters; The Rose Bowl; NFL tickets; NASCAR races; NBA and NHL; The Kentucky Derby, San Francisco Bay sailing package; Los Angeles, San Antonio, Chicago, Cleveland, Dallas, Orlando, Nashville, Charlotte, New Orleans, New York and Las Vegas travel packages, college football tickets; quail hunts and much, much more!
To date, the following companies have donated these big ticket sports and travel items for the Auction:
Allen-Villere Partners - New Orleans Stay & Quail Hunt for three hunters
American Concrete Pavement Association - Getaway to Hyatt Regency Coconut Point Resort and Spa
American Restore - Anaheim Ducks hockey tickets
Anderson Concrete - Golf at Muirfield Village, Dublin, Ohio
Argos North America - Golf at Atlanta Country Club
Baker Concrete Construction, Inc. - Kentucky Derby package for two
Bay Area Friends of CIM/California State University CIM Patrons – Monterey Bay Trip
Bradford Renaissance Portraits - Exclusive family portrait with hotel stay
Burnco Texas - Golf at TPC Las Colinas
Buzzi Unicem USA – Chicago Cubs baseball tickets
Buzzi Unicem USA – New York Mets baseball tickets
Buzzi Unicem USA – New York Yankees baseball tickets
Buzzi Unicem USA – St. Louis Cardinals baseball tickets
Buzzi Unicem USA – University of Tennessee football tickets
Canada Building Materials (CBM) - Toronto Maple Leaf tickets
CEMEX - Sports weekend package for four in Los Angeles
CEMEX - Pittsburgh Steelers football tickets
CEMEX - Florida Gators football tickets
CEMEX - Golf at Valhalla Golf Club in Louisville, Ky.
Central Concrete Supply Co, a U.S. Concrete Company - San Francisco travel package for four
Charles Pankow Builders, Ltd. - 2017 Rose Bowl package
Clean Energy Fuels - Golf at Pelican Hill Golf Club, Newport Beach, Calif.
Conco Companies - Napa Valley weekend
Concrete Supply Company - Outdoor sportsman's package
Dunn Investment Company - Quail hunting at Circle M Plantation in Mississippi
Fastenal - Dover Nationwide Xfinity race tickets
Gary Salberg – Seven-day African Safari
Holliday Rock – Los Angeles Lakers tickets
Housby - $1,500 gift certificate to Golf Galaxy
Houston Freightliner/Freightliner Trucks - NASCAR race weekend
IronPlanet - Quail Hunt at Big Oak Plantation
Irving Materials, Inc. - Indianapolis Colts tickets
Las Animas Concrete - Seascape Beach Resort condo
Lehigh Hanson, Inc. - San Francisco Giants weekend package
Matt Childs of Grapevine Wine Tours - Two gift certificates to Grapevine Wine Tours
MTSU CIM Patrons - Houseboat rental
MTSU CIM Patrons - Nashville Experience package for two
NJIT CIM Patrons - New York City Adventure for two
Ozinga Bros., Inc. - Sports Weekend for four in Chicago
Peterbilt Motors Company - 2016 Texas NASCAR Duck Commander 500 Race package for four
Portland Cement Association – Two night stay at The Breakers Palm Beach
Power Curbers Inc. - Carolina Panthers single game tickets
Ready Mix USA - University of Alabama football tickets
Ready Mix USA - Golf at Shoal Creek Golf Club outside Birmingham, AL
Rush Enterprises, Inc. - Dallas Cowboys tickets
Ruttura & Sons Construction Co. Inc. - Notre Dame Football tickets
Sandler Training - Beaver Creek, Colo. condominium stay
Sika Corporation - 2016 Masters Package
Stego Industries LLC - Anaheim Ducks hockey tickets
Stoneway Concrete - Seattle Mariners tickets
U.S. Concrete Atlantic Region – Take a Bite out of the Big Apple New York City package
Vulcan Materials - Washington Redskins tickets
Vulcan Materials - Players Stadium Golf and Sawgrass Lodging package
Webcor – Sailing on San Francisco Bay
Wirtgen America, Inc. - Welcome to Nashville, Tenn. "Home of Country Music" package
Woodland Tilt-Up - Miami Dolphins football tickets
For more detailed information about any of these packages, visit the CIM website Auction page.
Once again, in addition to on-site bidding, internet bidding will be available on the Ritchie Bros. website. To participate in the Live Auction on-line, bidders must register one week in advance.
This year, all items are available for bid whether in attendance at the show or not. Bidding can begin on the 100+ items in the silent auction immediately and continue bidding on any mobile device straight through the event. The live auction items will only be available for bidding during the event itself, but can be bid on either in person or on-line. Auction participation instructions are available on the CIM website at http://concretedegree.com/auction/.