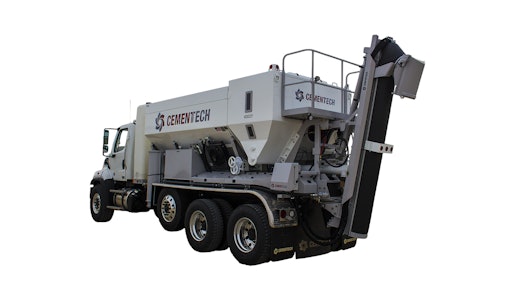 Cemen Tech,announced today they have signed ROMCO Equipment Co. as the exclusive dealer for Cemen Tech volumetric concrete mixers in Texas. ROMCO — with over five decades of experience, 10 locations and over 250 employees — has grown to become one of the leading providers of equipment and services for heavy earthmoving equipment, material processing systems, paving equipment and portable power systems throughout Texas.   
Cemen Tech will join the ROMCO Paving Equipment division, which includes many well-known international brands.  As an authorized Cemen Tech Dealer, ROMCO will also supply parts and service for Cemen Tech concrete mixers.
The addition of ROMCO to Cemen Tech's dealer network will provide improved customer service and support for existing Cemen Tech customers in Texas.
"We feel our partnership with Cemen Tech will allow us to provide a better solution to our customers and provide them a proven technology for concrete production," says Robert Mullins, ROMCO CEO and owner. "Cemen Tech is a strong addition to our ROMCO Paving Equipment division because it is a solution that allows our customers to be more profitable and productive on these jobs."
"The addition of ROMCO, with 10 branches throughout Texas, is an exciting addition of our expanding global dealer network," states Connor Deering, CEO/President of Cemen Tech. "Partnering with ROMCO will allow us to greatly expand the number of businesses who can benefit from using volumetric mixers and provide the local support infrastructure to keep our customers running."