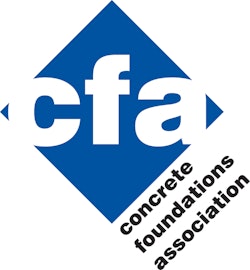 Concrete foundations constructed in the state of Georgia will now be produced by the state's first CFA certified foundation company, Herbert Construction Company based in Marietta, Georgia. "Certified Residential Foundation Company" is a program rating established by the Concrete Foundations Association, headquartered in Mount Vernon, Iowa, www.cfawalls.org, offering third-party quality assurance for professional concrete foundation companies. Recognizing the need for a national program to establish a consistent base of knowledge and quality assurance for the cast-in-place concrete foundation industry, the Concrete Foundations Association™ of North America (CFA) created the Certified Residential Foundation Company over a decade ago. The program recognizes certified companies in the states of Missouri, Iowa, Pennsylvania, Illinois, Maryland, Nebraska, Wisconsin, Virginia, North Carolina, Ohio and now Georgia.

"The Certified Foundation Company program was an ideal extension of the Certified Residential Foundation Technician that is offered through the American Concrete Institute," states Jim Baty, Executive Director for the CFA. "Introduced in 2007, the technician program established a grueling examination of the knowledge base for understanding the codes and standards that shape the minimum requirements for today's residential concrete foundations. However, having a person on staff or even multiple project managers that knows the important sections of code documents was just the start. This industry needed a recognizable standard for operation of a quality foundation company."
Herbert Construction became involved early on in the program as company President, Doug Herbert, participated in the formation of the market development package offered to companies achieving the benchmark. The aggressively growing economy set the wheels in motion for the company to follow up on its original intent to become a certified company.
"It became increasingly important and eventually essential for us to show our region that we are serious about our foundations and this program," states Doug Herbert. "I became an ACI/CFA Certified Technician several years ago and all along it has been my intent to have the company follow suit. This shows our current and future customers that we are committed to being the best company that we can be. We've put in a considerable effort to become a Certified Residential Foundation Company. Our employees are what makes this certification possible, and we believe this will set our company apart from other construction companies as we continue to hire great people to join our company."

Company certification was the obvious next step in Herbert Construction's consistent involvement in the CFA. From their multiple awards in the CFA's annual Projects of the Year competition, to their leadership and involvement in the association's Board of Directors. That was instilled in the second generation, family-run company early on from founder and CEO, Barry Herbert, his daughter and V.P. for the company, Amanda Morris and now Doug Herbert. A member of the CFA since 1992, the process to become a certified company forced the family to look deeper into their processes, understanding their safety culture and identifying new ways to step forward in their commitments.

"Certified companies must prove their safety programming, commitment to workforce safety and performance, financial stability and quality of relationships," states Ed Sauter, CFA Manager for Certification Programs.
"I'm quite proud of the statement this certification makes to our company culture and to our customers," states Barry Herbert. "Our goal has always been to commit ourselves to leadership through our processes, our relationships and our performance.  We are very pleased to have been through this process as it demonstrated just how much we already knew about our company but also some new ways to improve our processes and our commitments."
For more information on Herbert Construction Company, please contact Doug Herbert at (770) 795-0103 or visit their website, www.herbertconstruction.com.
For more information on the CFA, please contact James Baty, Executive Director at (319) 895-6940, jbaty@cfawalls.org or visit the Association's website at www.cfawalls.org and go to keyword Certification.
For more information on the American Concrete Institute and their individual certification programs visit their website, www.concrete.org.