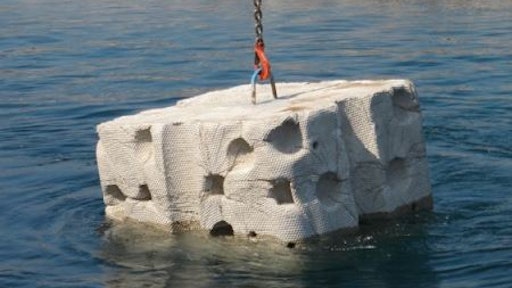 ECOncrete

In a recent Besser newsletter, the company highlighted concrete startup ECOncrete, one of many companies in an industry-wide trend toward increased sustainability:
2019 was a stellar year for ECOncrete. The company won numerous awards and accolades, including; being listed in TIME Magazine's 100 Best Inventions of 2019; reaching 16 million views on "Nas Daily" video; being named one of Fast Company's 2019 Most Innovative Companies; being recognized as a Most Creative People Honoree; being listed as No. 13 in Forbes "50 Women Led Startups That are Crushing Tech; having been selected by Sir Richard Branson as the winner of "Pitch to Rich" hosted by Virgin Atlantic; being selected as 2019's Meaningful Business 100; being awarded the Solar Impulse Efficient Solution Label 2019; and being featured on Bloomberg TV.
Beyond this, ECOncrete celebrated their first installations in the United Kingdom, Germany, France, Monaco, and Hong Kong, and has secured contracts with the Port of Rotterdam, in the Netherlands and the Port of San Diego, in California.  These past successes are inspiring ECOncrete' s future; so what's in store for ECOncrete for the rest of 2020?
Despite the uncertainty that COVID-19 has inflicted, ECOncrete is determined to make 2020 a step forward towards a Blue-Green reset.  Things are moving full steam ahead for the installation of a second generation tide pool, CoastaLock, at the San Diego Port this summer, which will give a welcome boost to the company's existing product line.  Similarly, the project planned for the Port of Rotterdam, due to be installed in 2021, will result in the development of a market ready ecological enhancement unit for corrugated steel sheet piles. It's also applicable as a retrofit tool for enhancing life on existing bulkheads.
Another project in 2020 is the first full scale installation of the bio-enhanced articulated concrete mattress which was developed in collaboration with Besser Company beginning in 2016, and was funded in part by the Israel-U.S. Binational Industrial Research and Development Foundation. Since the completion of the product's development in 2018, ECOncrete has installed two pilot projects, one in Fort Lauderdale, Florida and the other in Neptune, New Jersey. The success of these two pilot studies has confirmed ECOncrete's belief in the massive potential this product has for bringing ecological value to coastal and marine environments.  The full-scale installation is due to take place in Neptune, NJ this summer as part of a larger shoreline restoration scheme.