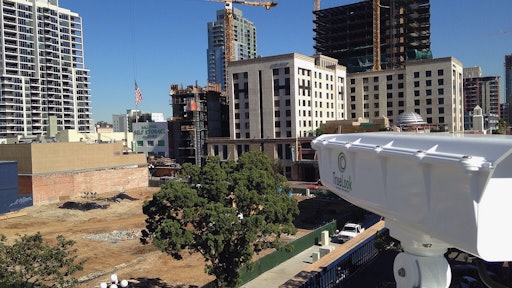 TrueLook now offers a 20-megapixel (20-MP) camera system to construction companies across the U.S. and Canada. TrueLook's 20-MP camera is the first and only DSLR camera on the market to come standard with live streaming video and security recording.
TrueLook's 20-MP camera system provides the following benefits:
Sharper images – The images are larger by definition making them the sharpest images available for the construction jobsite. The digital single-lens reflex (DSLR) lens makes this camera more responsive resulting in sharper images.
Convenience – The cameras employ remote auto-focus via the TrueLook interface making it easier to gain sharp focus for the camera at the jobsite. This camera also offers live streaming video and 24/7 security recording - both at 1080p resolution. By its nature, a 20-MP camera employs enhanced digital zoom which adds to the convenience of getting the precise image needed from the jobsite.
Quality – The cameras deliver images at more than twice the resolution than 4K cameras that are on the market today. The resulting quality of photos and video available from the jobsite are higher than previous models.
Request More Information
Fill out the form below to request more information about
TrueLook 20-Megapixel Jobsite Monitoring Cameras