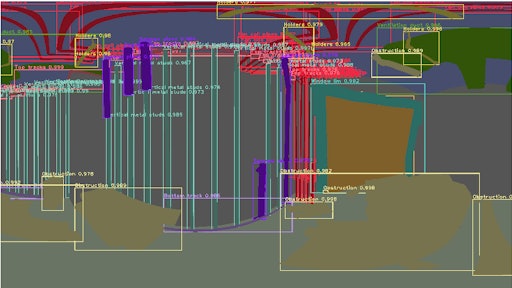 Constru
Tel Aviv-based Constru recently jumped the pond to the United States, opening offices in Chicago, New York City and San Francisco, making its machine vision applications more easily available to the North American market.
The company's platform meshes photogrammetry and other data captured on construction sites with data from a building information modeling (BIM) application. Constru's North American headquarters is in Chicago, headed up by industry veteran Jessica Herrala. The move puts another construction photogrammetry, machine vision and site data capture option in the North American market, giving contractors the ability to track more than 250 elements of a construction project and offers actionable insights to help control costs, optimize team and process efficiencies and identify discrepancies and quality issues.
Gunning for OpenSpace, Structionsite
In a June, 2022 debriefing call, Constru Senior Project Manager Tomer Iserovitch said the company employed about 80 and has nine employees with boots on the ground in North America including three account executives charged with building out the customer base here. Constru was on track to have a customer success team of two in North America with an addition hire that was planned.
The goal, according to Iserovitch, is to "get as many of ENR Top 400 logos on board with us as possible. That means we need to get them aware of the tech and solutions we have. We are trying to grow revenue as fast as possible."
To drive this growth, the company has launched standard integrations with Oracle Primavera P6 and with Procore.
The company also keenly aware of market leaders in North America, most notably OpenSpace.
"Almost every major general is using one or the other," Iserovitch said. "In terms of differentiation, they are both great reality-capture solutions. These contractors tend make it so if they have a new field engineer, part of onboarding is photo documentation capture."
But there are areas where Constru will compare favorably to major incumbents.
"What they are not doing is the deep analyzing," Iserovitch said. "We can get the image-based data, and using these solutions I can sit here in my house and view what is going on at the construction site. But they are not processing that to yield insights or getting analytics for data driven decision making … We had been in San Francisco two weeks ago, and spoke with the information technology leads from a top ENR400 company. Even though they are advocates in OpenSpace, after seeing what we can do, they said loud and clear we are way more advanced."
One area where Constru seems particularly advanced is in the application's ability to trigger business activities based on what the data capture reveals—including automation of payouts. The application can also parse imagery for actionable insights, to offer suggestions and to identify risks and opportunities on a project.
"The difference with Constru is the level of granularity," Iserovitch said. "Walls and ceiling completion are tracked by OpenSpace, but we are looking at tasks for that wall broken down into subcategories."
Constru integrates with the project schedule to reflect status of more than 280 different tasks, tracking progress against the schedule. Based on this reported progress, the software can alert superintendents and other project members, periodically or in real time. Progress is also reflected on a Gantt chart. In this fashion, the software can update both budget and cost by ingesting cost codes and progress tracking and feeding that data back against installed quantities.
The company also goes beyond product to delivering services—performing data capture for customers directly as a white-glove-level offering. Regardless of whether Constru or its customer captures data, the software ingests the images and parses it with BIM data supplied by the customer. In many cases, Constru can augment the BIM base model with finishes from images captured on site.
One way this is leveraged is in Constru's quality discrepancy offering. This automates the work that must be completed in competing products if, for instance an image sees an electrical outlet is missing. Rather than manually tagging the discrepancy, Constru users can rely on machine learning that determines that the BIM is not being followed.
Constru Tech Stack
Constru is a multi-tenant software-as-a-service (SaaS) back end on the Amazon Web Services (AWS) cloud, relying on the MongoDB open-source database. The company develops native Android apps to maximize usability and access to device features. For iOS devices, the Constru development team builds out their apps in Apple's Swift programming language, which is also used by high-flying apps like Lyft, LinkedIn, and Eventbrite.
The Constru development team ships new product weekly, and new features come online on a rolling schedule after validation is completed.
Market and Pricing
In North America, Constru is shooting high when it comes to their preferred customer base, and are highly focused on the ENR Top 400, according to Iserovitch. Within this large contractor demographic, best fits will be among contractors involved in multifamily residential, office, higher education, residence halls and other projects with a high degree of repeatability. Contractors involved in projects of over 250,000 square feet can see a strong value proposition from Constru. The company also has enterprise pricing, based on the overall relationship.
In a world where many construction software vendors are moving to revenue sharing or value-based pricing models, Constru is trying to keep pricing simple. They are pricing per project, by square foot of that project. The white glove data collection service is typically subbed out, according to Iserovitch, and typically involves weekly on-site data collection.
BOTTOM LINE: Constru seems functionally ahead of established competitors in North America. Their service offering may be attractive to contractors whose field staffs are already pushed to the limit. The key success factor for Constru will be in its ability to hire and scale and penetrate the North American market. Contractors considering Constru should feel them out for details on their product roadmap, and not only to see what functionality is pending that will solve new problems for them. But rather, Constru will need to innovate quickly enough to stay and pull further ahead of the field which is also working to drive more automation and context in their site data capture offerings.