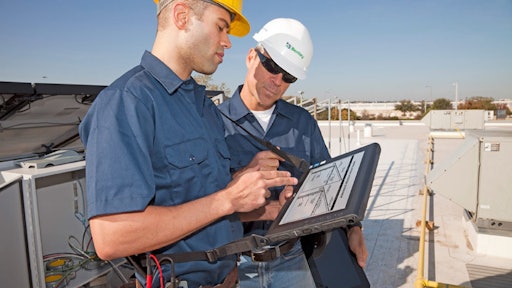 Mobile app: FieldProject
Developer: FieldConnect
Available on: Web-enabled devices
FieldProject creates a real-time link between the office and the field through any web-enabled mobile device such as smartphones, tablets and laptops. FieldProject offers contractors the ability to review and manage multiple aspects of each job including project history, crew time tracking, mobile form entry, material costs and equipment assignments – all from the convenience of their mobile device.
FieldProject enables mobile activity documentation including daily logs, pictures, video, task notes, custom forms and signatures. A direct connection to a contractor's ERP links the project module to the projects being tracked with FieldProject.
In addition, the FieldProject mobile app can capture project time for individuals, crews and equipment.
The app is a web-based application. According to FieldConnect there are no downloads needed, simple integration, guided implementation and highly configurable software to meet the needs of your processes.
App features:
Assign the right inventory to the job and track equipment usage on the jobsite

Add descriptions, contracts and pictures from the field

Configurable to match your workflows

Integrates with ERP to capture project information

No "sync" process; entries are immediately written to your ERP

Online project details on any active project phase from Web-enabled devices

Eliminates duplicate data entry

Eliminates paper-based customer and project specific forms

Capture form data in a reportable SQL database

Digital signatures

On-the-spot reporting

Assign inventory to a job and track equipment usage