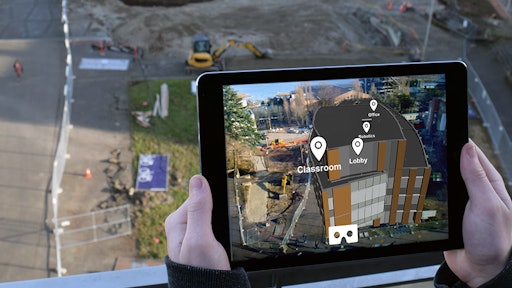 After pioneering the use of virtual design in construction, Mortenson Construction has developed a first-of-its-kind augmented reality (AR) mobile app to help the University of Washington community "see" the future CSE2 computer science building — well before its doors open to students in January of 2019. Similar to the popular Pokémon Go, users can either point their smartphones at the construction site on campus — or at a printed handout if off campus — to experience a life-like digital representation of the future CSE2 building.
The app was developed by Mortenson's in-house immersive-technology team in Seattle, a project led by Marc Kinsman. Users can experience the building's exterior in AR, and can then teleport inside for an immersive virtual reality (VR) experience in the main lobby, workroom, robotics lab and offices. The app is designed to generate interest and engagement by faculty, students and visitors during the building's construction, which is located in a popular area of campus. A preliminary version of the "Mortenson AR/VR" app is now available for download on iPhone and Android devices.
"A typical campus construction project like CSE2 can last two years or more," Kinsman said. "This window presents a tremendous opportunity to engage the public, and to build excitement around campus. AR and VR represent a vast improvement over traditional public engagement methods like flyers, fencing signage or a website. We are scratching the surface of what's possible."
The completion of CSE2 will enable the UW to accommodate a growing number of computer science and computer engineering students and faculty, while ultimately bridging the Puget Sound region's technology workforce gap. Presently, the bachelors-level workforce gap in computer science exceeds that of all other high-demand fields combined.
The 135,000-square-foot CSE2 project is designed by LMN Architects, the same architecture firm that teamed with Mortenson on the original UW computer science and engineering building that opened in 2013: the Paul G. Allen Center for Computer Science & Engineering. At a cost of $105 million, CSE2 is being funded by a mix of public and private sources. In addition to classrooms, lab space and workrooms for faculty, undergraduate and graduate students and researchers, the building will include a 250-person lecture hall, seminar rooms and conference facilities.