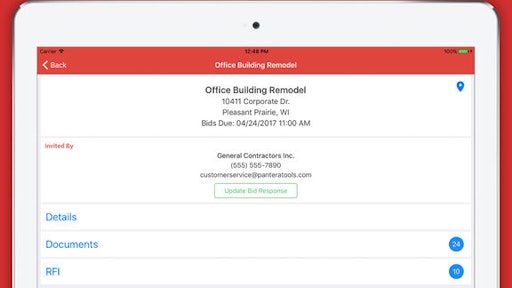 Mobile app: Pantera Mobile
Developer: Pantera Tools
Cost: Free with Pantera account
Available on: Apple and Android devices
If you have a Pantera account, Pantera Mobile is designed to help you manage construction bids, project leads, blueprints, plan documents, project photos and more. The app syncs with your Pantera account so you can manage projects and accept bid invitations out in the field or from the office.
With Pantera Mobile, construction contractors have a tool for project lead management, project document management, request for information (RFI) tracking and project tracking.
App features:
View project drawings
Send, accept or decline bid invitations
Submit bids right from the app
Upload and store project drawings, photos and more
Manage multiple plan documents
Send and share files
Send and share RFIs to other users on projects

See all RFI history
Create and track projects directly in the app