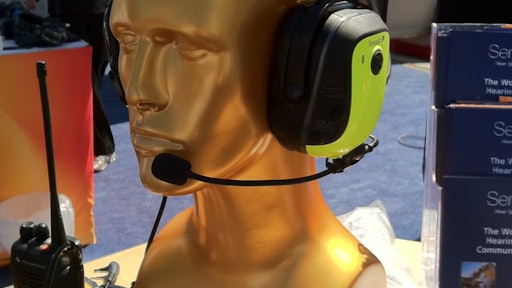 Hearing protection and communications company Sensear demonstrated its technology at the 2011 CONEXPO-CON/AGG show in Las Vegas. The company sells a line of muffs that can be used in face-to-face, two-way radio, Bluetooth and short-range radio applications on any worksite where people need to communicate in high-noise areas. David Cannington, chief marketing official with Sensear, says the system is "guaranteed" hearing protection. "What I mean by that," Cannington explains, "is that everything that goes into the ear is at 82 dB."
Sensear's unique feature is that in addition to offering communication and hearing protection in noisy environments, it also offers users situational awareness. In other words, users have complete awareness of what is happening around them because Sensear's technology does not filter out ambient noises such as back-up alarms and equipment noises but lowers their volumes while picking up and enhancing the human voice.
The company's equipment is used widely in the construction, mining, utilities and transportation industries. "Hearing protection is not traditionally thought of as a technology-driven industry, but we are changing that," Cannington says.