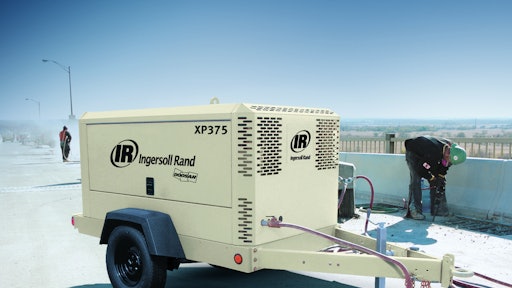 Doosan Portable Power introduced a new generation of state-of-the-art generators and air compressors at CONEXPO-CON/AGG 2011, with industry-leading technology and engine technology upgrades compliant with EPA Tier 4 Interim regulations. The new G325 mobile generator is the first in a series of new models that meet EPA Tier 4 Interim emissions standards. This new addition to the generator range meets customer needs with low water ingression due to the high efficiency designed into the innovative cooling fan packaging. The generator has been tailor-made to maximize the 325 kVA power output, putting horsepower into the application, rather than applying the horsepower to the interior package cooling.
Also on display at the show is the powerful XP825 T4i air compressor that combines the latest engine technology with easy-to-use and easy-to-maintain features to ensure high performance and reliability in demanding jobsite conditions. The XP825 compressor produces 825 cubic feet per minute (cfm) at a rated operating pressure of 125 pounds per square inch (psi). An EPA Tier 4 Interim and EU Stage IIIB Cummins QSB6.7 engine provides power for maximum output with minimal maintenance, all while meeting emissions requirements on the job.
Taking sustainability to the next level in air compressor technology, Doosan's market-leading HP750 compressor is now available as an optional clean, quiet, construction-market-focused electric motor powered source instead of a diesel engine. The electric model (is 100 percent emissions-free and ultra-quiet, making it ideal for applications that have grid power available or are already utilizing a portable generator. Both power and cooling systems are controlled by a state-of-the-art liquid-cooled, variable-frequency drive system that provides unlimited control and exceptional efficiency. The HP750e is a rugged portable compressor package fit for any construction application and provides a reliable and durable solution to Tier 4i packaging and technology.
A look under the canopies of the new compressors and generators provides the opportunity to see the result of new engineering and design. These machines are equipped with state-of-the-art components on the inside and with exteriors that withstand the harshest jobsite conditions and transport.
Industry-leading technology
An intuitive and innovative full-color digital display on the XP825 and HP750e puts the operator in complete control. With an exclusive easy-to-read interface, information on the unit can be immediately accessed and monitored via a wireless connection with a smart phone, tablet or personal computer. Display settings can be customized to view only important information related to the application at hand. The optional full gauge package features a dual-colored, LED backlighting system that provides unparalleled operator visibility under any conditions.
The new look of Doosan Portable Power
The company, known for their previously branded Ingersoll Rand air compressors, generators and light towers, has launched their new machine brand customers will begin to see in late 2011.