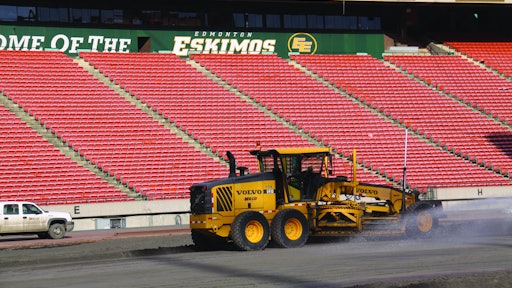 On June 13, the Edmonton Eskimos of the Canadian Football League (CFL) will open their preseason against their arch-rivals from Alberta, the Calgary Stampeders. When the two teams run, block and tackle at Commonwealth Stadium in Edmonton, players will be tussling on a very well-prepared piece of real estate, thanks in large part to automated machine control technology from Leica Geosystems.
That's because the field at Commonwealth Stadium recently received a renovation to the tune of about $2 million Canadian. The former field was natural grass, and it was the last stadium in the CFL to convert to artificial turf. The Grey Cup game, Canada's Super Bowl, will be played at Commonwealth Stadium this year. The stage needed to be reset.
The renovation required total removal of the existing growing medium and subgrade materials to a depth of 1.2 meters (4 feet). And precision became the order of the day. The project's subcontractor, Wilco Contractors Northwest Inc., Edmonton, Alberta finished the subgrade – and top of the fill – to near-perfect planarity, or flatness – a tolerance of 3 millimeters over a 3-meter length. (3 mm equals 1/8 inch.)
To achieve this precision, Wilco turned to a Leica PowerGrade GPS/GNSS machine control system. One motor grader was fitted with the GPS receiver, and Wilco set up a Redline GPS/GNSS Base Station. A second grader was controlled by a Redline Power Tracker robotic total station. That grader could achieve sub-centimeter accuracy.
"We probably have a quarter-million dollars (Can.) invested with Leica Geosystems," says Wilco president Art Maat. "The machine control equipment pays for itself on an annual basis. And that equipment gives us the ability to construct projects to tolerances that other contractors cannot, even though they have the same big iron capabilities we do".
He adds, "The machine control equipment saved $15,000 to $20,000 on surveying and probably made our equipment 25% more efficient on low-tolerance sites such as fields and running tracks where the grades are very critical."