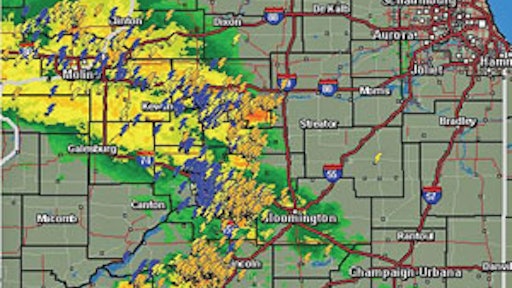 In an industry as heavily dependent as this one is upon working when the sun shines, real-time weather information can provide a competitive edge. If you know when storms or damaging winds may descend upon the work site, you can protect your crew, equipment and materials. You can also schedule work hours and tasks so there's a chance to get more done even when thunder and lightning roll in.
Today's technology can help you get such real-time weather information at one jobsite or at multiple sites. You don't need to have someone back in the office or site trailer watching The Weather Channel or going online to check and then issue warnings. Nor do you have to try to locate a radio signal so you can keep an ear open for weather forecasts on the local station.
There are two ways to put weather technology to work.
Employ a service
One method for accessing weather information is provided by Meteorlogix. Dan Buck, industry leader for construction and turf, explains what this service does.
"We provide complete weather data online or via satellite if high-speed Internet is not available," he explains. "We also can send alerts to cell phones, PDAs, pagers or an e-mail address. Common alerts are the arrival of precipitation, heat and humidity levels, lightning and winds."
Contractors select what they want to know and via what medium, though they can update or modify their arrangement at any time. Weather information can be delivered to as many as three devices per jobsite location.
"We have a unique tool called Precip Timer that identifies the exact start and stop times of precipitation up to three hours into the future," Buck says. "The weather provided is site specific to an exact address or a point on the map if new construction has no established address yet. Alarms can be set to alert for light, moderate or heavy precipitation, too."
The information delivered is specific. "For example, we can identify lightning strikes within a 30-mile radius," Buck notes. "Also, you can choose to see a radar screen for a specific jobsite or you can zoom out to the state or national level. Precip Timer alleviates many of the concerns for surrounding areas and storm directions because any approaching weather creates an alert."
Meteorlogix charges on average between $100 and $200 per month for its service, but Buck says the investment is justified. "Revenue is maximized significantly by knowing when it's okay to work and when to call a job off," he comments. "The increased efficiency and accuracy in making 'go or no go' decisions is extremely beneficial. Because we can take the guesswork out of this responsibility, productivity is increased."
As an example, he cites a $5,000 concrete pour that is not completed due to fear of rain. "This would be a big loss for a company, but the same pour that ends up ruined due to unexpected rain is an even more expensive loss. You have to add in the cost of tearing out the job and re-pouring," Buck says. "Either scenario proves that with one completed job, or a loss prevented, our system can quickly pay for itself."
Use your cell phone
Both Nextel and Verizon Wireless, among others, offer weather information as an add-on service with your cell phone agreement, although it is not as site-specific as from a weather service provider.
Carolyn Rehling, vice president of construction and field services at Nextel Communications, explains, "We offer customers in the construction industry real-time insight into pending weather with Mobile My-cast, a software application currently available on Nextel's Java-enabled handsets (i58sr, i88s, i90c, i95cl, i325, i710, i730 series, i830 and i860). This solution combines location-based data with a wireless device to provide real-time weather information developed by our technology partner, Digital Cyclone."
Rehling says you can see animated Doppler Radar and satellite imagery with three zoom levels. "The image is updated every five to eight minutes showing storm movement in relation to user location," she points out. "Mobile My-cast features current weather conditions, hourly and seven-day forecasts with high/low temperature, sky conditions, wind, precipitation and severe weather alerts, watches and warnings for any location in the lower 48 states."
This application costs $3.95 per month, in addition to air-time minutes you use accessing it. "It's a valuable tool. For example, a contractor working on a roof can certainly benefit from knowing when a storm is approaching, and get the crew down," she says.
Verizon Wireless charges about the same for its weather options as part of its Get It Now downloadable services. Brenda Raney says that these services allow you to download a virtual suite of news and information, including weather data.
The company also offers V CAST, which gives users streaming video so you can view moving radar screens; the service is more like $15 a month. "It uses the power of broadband with download speeds of 400 to 700 kbps to stream video clips up to three minutes long," Raney says. "The new V CAST phones deliver better imaging capabilities, mega pixel and video cameras, improved audio and expandable memory storage."
Choices for weather include Radar by The Weather Channel, AccuWeather.com Premium, My-cast Weather from Digital Cyclone, Weathernews and more.
Raney mentions a third way to get weather on your handset. "You can pay $5 a month additional to access MobileWeb and receive eight weather channels," she notes. "Anyone with a Verizon Wireless phone purchased within the past three years is equipped for MobileWeb and accessing the Internet."
---
Resources
To get more information, check out these web sites: