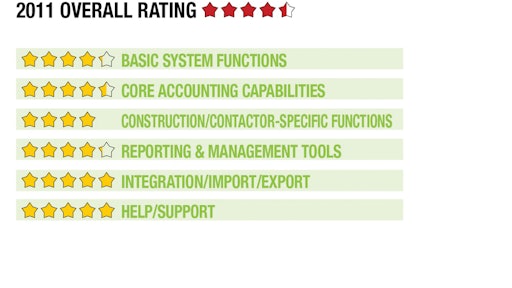 Article originally appeared in the July 2011 edition of CPA Practice Advisor
CYMA Job Cost Accounting
800-292-2962
www.cyma.com
2011 Overall Rating 4.5
Best Fit
Well-suited for mid-sized general construction companies who require solid job cost functionality and tracking without specialized contractor features like equipment management or dispatch.
Strengths
Scalable, modular design
Customizable eDesk interface for central navigation
Strong job cost functionality
System automated billings
Allows any document to be attached to jobs
Ability to add on strong Inventory/Wholesale/Distribution modules
Numerous third-party integrations available
Potential Limitations
No SaaS functionality
Lacks document management features
Executive Summary & Pricing
Starting at $645 per module, CYMA is a good fit for mid-sized contractors that do not require subset features such as equipment management and service call tracking. Scalable, CYMA's modular structure allows users to purchase the modules they need today and add to them at a later date.
Product Delivery Methods
_X_ On-Premises
___ SaaS
___ Hosted by Vendor
BASIC SYSTEM FUNCTIONS - 4
CORE ACCOUNTING CAPABILITIES - 4.5
CONSTRUCTION/CONTRACTOR-SPECIFIC FUNCTIONS -4
REPORTING & MANAGEMENT TOOLS - 4.25
INTEGRATION/IMPORT/EXPORT - 5
HELP/SUPPORT - 5