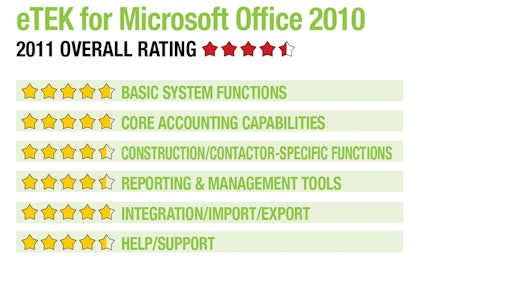 Article originally appeared in the July 2011 edition of CPA Practice Advisor
eTEK International Inc. - eTEK Fundamentals
800-888-6894
www.etek.net
2011 Overall Rating 4.5
Best Fit
eTEK Fundamentals is a brand new product optimally designed for small to mid-sized nonprofit organizations, offering a high level of security with its SaaS version.
Strengths
Built on Microsoft Office platform for easy system navigation
Excellent fund raising module available
Easy report customization
Solid import/export capability
Potential Limitations
Pricing could be prohibitive for the smallest of nonprofits
Summary & Pricing
eTEK Fundamentals is currently priced at $3,995 for up to three users, with $1,050 in training and support costs. eTEK also offers a complete system that includes all modules for around $15,000. The SaaS version is available for $283 per user per month, which drops significantly after 24 months. Other pricing options are available, as well. eTEK Fundamentals offers smaller government entities, churches and nonprofit organizations an excellent product that is fully scalable, and contains solid fund accounting features in a completely integrated package. By offering the two delivery models, this product is even more attractive to the small organization.
Product Delivery Methods
_X_ On-Premises
_X_ SaaS
___ Hosted by Vendor
Basic System Functions 4.75
Core NFP/Fund Accounting Capabilities 4.5
Management Features 4
Financial Statements & Reporting 4.5
Integration & Import/Export 5
Help/Support 4.75