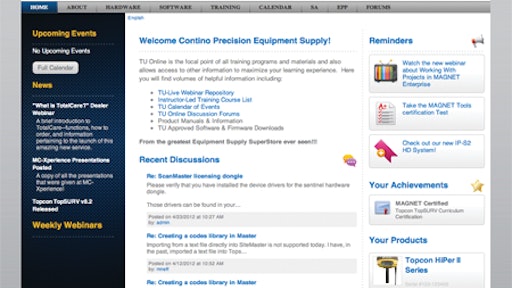 Topcon Positioning Systems launched TotalCare, its training and customer service Web portal, in June. TotalCare integrates Topcon's Technical Support Group (TTS) and Topcon University training resources to make training and product support more accessible to dealers and contractors.
In addition to on-demand training resources and live technical support, end users get access to Topcon University's subject matter experts through discussion forums.
Other resources for Topcon users:
List of upcoming events
RSS-capable news feed
Alerts of weekly webinars
Online training certifications
Reminders for events equipment end users can participate in
New product pages with features and benefits as well as associated products listing
Product registration system
Reminders of firmware upgrades, new software and sales on equipment
Support ticket interface to deliver tickets directly to TTS representatives via a computer or mobile device
Resources for dealers:
Gain access to customers' registered equipment purchases and training
Help determining which areas of equipment operation customers need help with 
Determine customers' level of training and assign reminders for upcoming training events
Sales enablement tools
Don Talend of Write Results, West Dundee, IL, is an award-winning print and e-content developer specializing in covering technology and innovation.