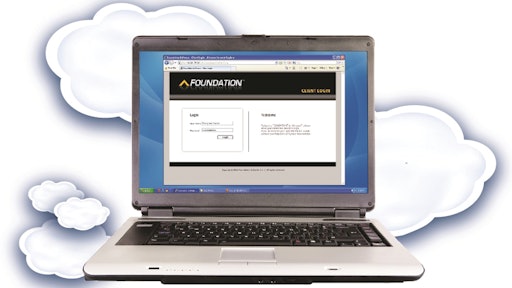 While adoption of software as a service, cloud computing and the use/storage of online data is becoming more common in the construction industry many contractors may still be on the fence about what these solutions can offer their businesses. Here are some of the most frequently asked questions potential customers have regarding using cloud-based solutions.
Ten Benefits of Using Cloud-Based Solutions
What is the Cloud?
If you're not familiar with the cloud, the first question you'll want answered is "what is cloud computing"? "Cloud computing is a new way of delivering computing resources to run websites or software applications," says Jodee Barton, marketing manager for Data-Basics, Inc. "Anything sorted or hosted in the cloud is something that is stored or accessed off site via the Internet."
Where is my data?
"The first question we usually address after introducing both new and existing clients to cloud computing is 'where is my data?'" says software manufacturer Dexter + Chaney. Since the "cloud" seems like an intangible place, many contractors may be concerned about exactly where their data resides. Dexter + Chaney reminds contractors that they may already be using the cloud in other aspects of their lives and businesses, such as online banking. "Their money is effectively 'in the cloud' – it is stored virtually as information that can be accessed from many different locations."
How similar is a hosted cloud application to an on-premise application? Do they look and work the same?
In regards to hosted applications, the system will look and work virtually identical to the on-premise counterparts. The difference is that the software is installed and maintained at the vendor's facility as opposed to being installed at the client's location," says Mike Ode, president of Foundation Software.
What is required to support a cloud service?
The significant value of cloud-based solutions is the speed in which they can be deployed, implemented and operating as-designed with little resources required by the client, says Mark Sargent, director of solutions engineering for Telogis. "As cloud solutions are generally hosted off site, the technology requirements are typically as simple as a common web browser and Internet connection. There are no server and infrastructure requirements and no additional IT workload to administer and support a cloud solution."
Can I use mobile technology with cloud-based applications?
Cloud solutions are being developed as both software solutions and services and apps, Barton says. "The advantage of cloud-based technology is that the only requirement is a compatible browser – or depending on what an application is built on, up-to-date Java, Silverlight or similar," Barton adds. Of course, a disadvantage is that an online connection is required, which can be a challenge on remote jobsites.
What if I lose my hardware (laptop, tablet, phone, etc)?
Because data is stored in the cloud, it is not dependent on one device, says Gabe Authier, product manager cloud computing with Viewpoint Construction Software. "You can literally grab a new device, get Internet access and never miss a beat. All your data is there, and you'll never have to worry about data transfer again," he says.
What if I don't have an Internet connection?
Cloud solutions are dependent on an Internet connection, so contractors should plan for and have both primary and backup options, says Steve McGough, chief operating officer for Heavy Construction System Specialists Inc. (HCSS). "Your primary connection should be relatively solid, and you must have a backup plan for if it goes down. Many people who rely on cloud services carry a cellular data card and use it as their backup solution," he says.
Why is the cloud more expensive than my current solution?
This initial reaction of many contractors is often solved after careful analysis of the solutions, says David G. Richards, vice president of client services for RMI Corporation. "After careful analysis our customers identify cost savings that typically save about 40 percent of what they are spending today. The result, cloud computing is most often less expensive than on-premise computing," Richards says.
A subscription-based cloud solution can be an option that requires less upfront cash investment. "Subscription-based services offer companies the ability to begin leveraging new technology within their businesses with less upfront cash investment, and many services also provide the added flexibility of being able to easily scale up or down a company's usage of a service as needed," according to Norm Cadsawan, senior director of product management for Sage Construction and Real Estate. "This flexibility helps companies to lessen the burden of IT investments on a company's cash flow."
How often are updates performed, and who is responsible for doing that?                                                             
Technology updates are different for each solution, says Sargent. Since cloud-based solutions are typically subscription based, updates should be expected on a routine basis, and the provider is responsible for feature updates, enhancements, security and performance improvements.
How is my data backed up?
Many cloud-based hosting services provide redundancy, data backup and data recovery services, says Dexter + Chaney. Data backup is another function of security measures as well, and ideally should be backed up in multiple physical locations.
Is it possible to integrate data in the cloud with other systems on premise?
According to Sargent, solutions that are enterprise-grade should have robust integration capabilities. Most clients have specific integration requirements rather than just a general stream of data so it is important to verify the true capabilities of a solution provider.
What about data center down time?
Most cloud providers have multiple data centers to ensure if one data center fails the others are still working. However, sometimes there is still unforeseen downtime, says Authier.
How do cloud-based solutions secure my data?
Security is one of the most asked about topics regarding cloud-based solutions. These types of solutions have multiple layers of security to protect data, but providers might approach that security a bit differently. However, all providers agree that cloud-based solutions should have high security standards.
Unlike traditional computer security that is focused on preventing access to a specific machine, cloud security addresses issues such as identity management and privacy, Barton says.
Barton points out three layers of security that cloud providers should address.
Physical security – securing the physical location of hosting servers
Logical security – firewalls prevent security breaches from Port Scanning (bots pinging IP addresses on multiple ports, mechanically looking for a way to get in somewhere)
Data backups and encryption
"Business-class hosting includes far more security than most any company would provide on their own premises," says Dexter + Chaney. The communication path between a user's computing device and hosting server(s) is highly encrypted, and access to the physical server racks in data centers is tightly secured, some even requiring retina and hand print scanning and 24-hour security services.
Redundancy is also a form of security. "In most cloud scenarios, data is typically backed up to an off-site location or the server environments provided are fully redundant. This means that there is not a single point of failure that would prevent access to the data," McGough says.
To make sure you're working with a provider with high security standards, Sargent suggests customers asks providers these questions about their security systems.
Is the Saas solution provider SAS70 or SSAE16 certified with current audit report? "This ensures that the physical data center is highly protected with numerous industry accepted security techniques and infrastructure redundancy built in," Sargent says.
What quality control systems do they have in place? Do they align to security protocols? "ISO9001 certified organizations have tight engineering control processes in place which account for security elements with any software change or update," he says.
Do they have the ability to integrate to existing authentication systems?
Do they offer Single Sign On support? "Implementing Single Sign On ensures user access is directly aligned to your current authentication structures and is always up to date."
Cloud Computing Product Roundup
Here is a sampling of cloud-based solutions available for the construction industry. Find more products on the ForConstructionPros Buyers Guide under the Technology & Software category.
Spectrum Version 14  from Dexter + Chaney
HeavyBid from Heavy Construction Systems Specialists Inc. (HCSS)
Sage Construction Anywhere from Sage North America
V6 Software from Viewpoint Construction Software
SAMPro Enterprise from Data-Basics Inc.
Foundation Job-Cost Software as a Service (SaaS) from Foundation Software
HeavyJob Field Management Software from Heavy Construction Systems Specialists Inc. (HCSS)
ADVANTAGE from RMI Corporation
Fleet 10 Equipment Management Software from Telogis Inc.
Cloud Service for Time and Attendance Tracker from Exaktime Inc.
Evolution from WennSoft Inc.
PlanGrid 2.2 iPad App from PlanGrid
Revu 10 from Bluebeam Software Inc.
FormMobi Field-Data Mobile App  from FormMobi
Lasso Project Intelligence from Hard Dollar Corporation
TeamLink Portal from Corecon Technologies Inc.