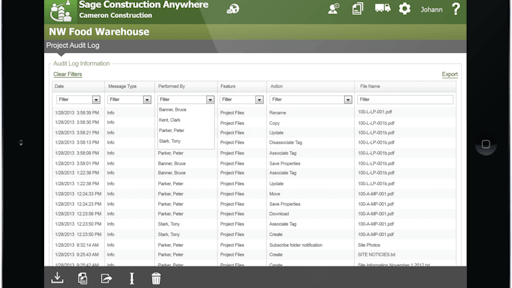 Here is a sampling of benefits cloud-based solutions can provide construction contractors. Contractors should research and interview possible providers to find out what other benefits their solutions may provide.
13 FAQs About Cloud-Based Applications
Improved access (mobility): Access data and applications from anywhere with an Internet connection at any time. Contractors have constant access to real-time data and numbers which can help when making important decisions, according to Mike Ode, president of Foundation Software.


Streamline business operations and drive efficiency: The ability for multiple people to work on one cloud-based solution helps drive efficiency with one-time data entry, according to Jodee Barton, marketing manager for Data-Basics, Inc. "Contractors can manager their financial and project information using cloud computing. Managers and site supervisors can easily input labor and time information from the jobsite with a smart phone or other similar device. Field updates are instantly reflected for all to see," Barton says. Cloud solutions help eliminate the need to exchange multiple emails, search for file folders and call for updates from the field.


Real-time collaboration: Users in multiple locations can simultaneously review and edit a single copy document such as drawings, bill of materials, purchase orders, job costing, etc. Project teams have access to the most current information available and can be informed if files are currently under review.


Hardware and software independence: No need to standardize on any one particular type of computing hardware, tablet or smart phone. All you need is access to a web browser.


Lower cost of ownership: According to software manufacturer Dexter + Chaney, "Cloud computing eliminates all the work that goes into the operation of traditional Windows-based client-server software." Cloud solutions eliminate the need to upgrade to more powerful server hardware or update operating systems or database versions.

In addition, many solutions are monthly subscription based meaning contractors don't have to contend with a large start-up fee, Ode says.

Additionally, when moving to the cloud, contractors may be able minimize costs and leverage existing IT investments by looking at cloud solutions that integrate with their existing software. "Pairing a cloud-based solution that addresses field and operational needs with existing on-premise financial software can help contractors more quickly begin to reap the benefits of collaboration and streamlined field-to-office communication," says Norm Cadsawan, product director for Sage Construction and Real Estate.


Scalability: According to Gabe Authier, product manager cloud computing for Viewpoint Construction Software, it is a fairly easy process when new software is available or if a contractors wants to add or remove users to their cloud-based applications.

This is beneficial to construction companies who plan to grow. "Cloud computing enables business owners to add computing resources (memory or processors), storage (disk space) or network (bandwidth) but just enough to cover the additional requirements and only for as long as they will be needed," Barton says.

The flexibility of a scalable solution also lessens the burden of IT investments on a company's cash flow, adds Cadsawan.


Less maintenance on internal software and hardware: Since cloud-based applications are hosted by the provider, contractors can worry less about keeping their software running, Ode says.


Cost and time savings: According to David G. Richards, vice president of client services for RMI Corporation, "We find that the average customer saves about 40 percent of the cost on infrastructure and people to manage it. More importantly, they also gain more personal time themselves."


Improved cash flow: The ability to quote a new project, create a change order and accept payment right away from any mobile device allows contractors to improve collections and the amount of cash on hand, says Richards. Cloud-based solutions can let contractors email invoices directly from the jobsite, ensuring the invoice is in the customer's hands sooner.


Solutions are continuously updated: Cloud solutions provide new and valuable capabilities throughout the lifetime of the service, says Mark Sargent, director of solutions engineering with Telogis.
Information provided by Dexter + Chaney, Telogis Inc., Foundation Software Inc., Data-Basics, Inc., Sage Construction and Real Estate, Viewpoint Construction Software, RMI Corporation and Heavy Construction Systems Specialists, Inc. (HCSS).