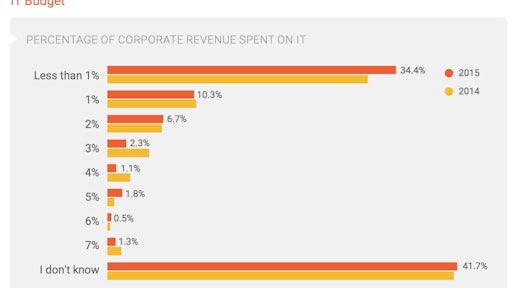 Well over a third of U.S. contractors responding to JBKnowledge's 2015 Construction Technology survey spend less than 1% of corporate revenue (fees the corporation bills to projects as either profit or overhead charges) on information technology (IT). More than half of them spend 2% or less.
Those numbers confirm a 2014 Gartner survey's findings, which measured an average IT spend across 19 industries of 3.5% of revenues.
The 4th Annual JBKnowledge Construction Technology Report asserts that, "Out of 19 industries, construction allocates the least amount of revenue for technology, according to Gartner. All of this means that the construction industry underspends cross-industry averages by 60% to 70% — a staggering number."
Short on Staff
The 2015 Construction Technology Report identified an IT budget corollary — that most constructors forgo staffing an IT department. Only 42% have a dedicated IT staff.
"It's very concerning," says James Benham, CEO of JBKnowledge, a company that builds technology solutions for construction and insurance. JBKnowledge also produces the Construction Technology Report. "It means that technology is so unimportant to most contractors that they're not even assigning a single person to be responsible for it."
Some construction companies outsource IT services. Gartner's research identified construction as the third most likely industry to outsource IT, outsourcing 16% of IT spending. The Construction Technology Report says, "This suggests that many construction companies are running IT with a combination of 'unofficial' staff and advising third-party vendors."
"But we all know that if you take something seriously in your company," Benham says, "At some point you have to have at least one or two people in the company dedicated to it."
It's important to note that the profile of respondents to the 2015 Construction Technology Report is dominated by commercial building constructors (66%), and the second-largest vocation represented is transportation construction (23%). More importantly, it includes far more large firms than the U.S. construction industry in general.
Less than 10% of respondents report annual sales volume up to $5 million, while most U.S. heavy construction firms fit this category. An outsized 46% of respondents had annual sales between $20 million and $200 million. So conventional wisdom that larger companies see the value in investing in management tools doesn't yet apply to construction technology.
"Logically, as companies get larger, they tend to have technology staffs," says Benham. "But I was surprised at how large some companies get without having a single person dedicated to technology."
About a quarter of contractors with fewer than 100 employees had IT staff, and just over half of firms with 100 to 200 employees hire IT professionals. Similarly, about 25% of contractors with annual sales volume less than $50 million employed IT staff, and a little more than half of firms with $51 million to $100 million in sales employed IT professionals.
Misjudging Need
Among contractors who do have IT staff, regardless of size, 63% commit to five employees or fewer. Only companies with more than 1,000 employees and over $500 million in sales volume are likely to have more than five employees dedicated to IT, and their IT staff is likely to be less than 15 employees.
"Almost 20% of survey respondents base the size of their IT staff on workload — in other words, how stressed out the IT staff is," says Benham.
"I think there's a better way to determine the size of an IT department than just looking at the number of employees you have," he continues. "Construction companies need to take a more proactive, strategy-based approach, setting budgets based on what tools, processes and people are necessary to fulfill the company's core strategic objectives."
Limiting Factors
Asked about what limits their adoption of technology, contractors responding to the 2015 Construction Technology survey identified these Top 5:
Budget: 39%
Lack of support staff: 34%
Management hesitance: 31%
Lack of knowledge about what's available: 28%
Employee hesitance: 25%
"At the end of the day, the top technology limiters all come back to money," says Benham. "Contractors don't have the budget or they don't have the staff to thoroughly investigate available technology." They consume the meager resources they do set aside for IT responding to emergencies like fixing computers."
Analysis published in the Construction Technology Report suggest, "These statistics show that construction companies are lacking in structure, staff and budget for information technology, and most of them are aware of it. Employees filling unofficial roles in IT are Band-Aids on resource gaps, but they're not fully trained and equipped IT professionals."
The 2015 Construction Technology Report includes evidence that underscores contractors' lack of technology expertise:
persistent use of spreadsheets in tasks such as collecting field data and estimating;
very low rates of integration in software systems that share data; and
dependence on manual re-keying or using spreadsheets to transfer data when programs are not integrated.
"In general, these statistics indicate that companies do not have a clear and communicated strategy when budgeting for IT. Therefore, needs and allocated resources do not align," according to the report. "Most builders have a set mission and objectives within their space as far as the projects, clients and employees they seek and maintain. But for most companies, technology is not given a detailed role in fulfilling that mission."
Opportunity to gain a competitive advantage can be realized by adding enough construction technology expertise to take the time to identify technologies that improve company operations in the direction of achieving corporate goals.
"What tools and solutions do you need to either buy off the shelf or build on your own to achieve your goals?" Benham asks. Build your budget around delivering the answers.