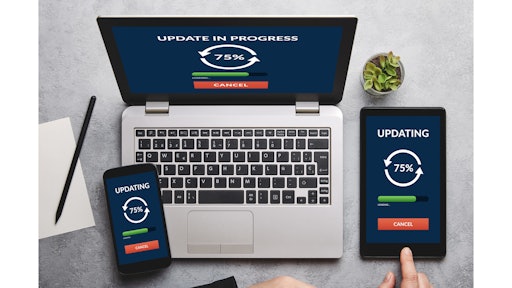 CarmenMurillo / iStock / Getty Images Plus
Identifying the right time to evaluate and implement a new software solution can be challenging, especially if your current system seems to be good enough. However, the following situations are likely indicators that it's time to review your firm's software.
1. If your server crashes, will your provider be able to help you restore your data? Every piece of hardware has a shelf life, and if your hardware crashes, it could lead to data corruption. To minimize damage and impact on running your business, you need a solution and a provider that is committed to protecting your data through redundant software backups or eliminate the server entirely with a cloud-based solution.
Don't wait for your data to disappear to identify you have a problem. Help alleviate the risk of data corruption by having a plan and proactively managing your critical business information with technology that is designed to meet your business challenges today and well into the future.
2. What happens when one of your top employees leaves the company? It's never good news when talented people choose to go elsewhere, but the right software solutions can make it easy for the rest of the team to pick up where they left off.
Outdated business tools can make it difficult to transition client relationships, project responsibilities, and project financials to someone else in the firm. There may also be a disconnect in project communications and drawings if project information is not stored in a central location, leading to huge challenges delivering successful projects. Silos of client and project data can lead to project overruns, schedule delays and unhappy clients.
As a leader of a professional services firm, you need to empower your teams with the tools and resources to collaborate, communicate, and coordinate critical client and project details. This will streamline transitions between employees and allow teams to deliver successful projects that meet client expectations.
3. When you are leveraging software to run your business and hit a road block, is someone available to help you find a solution? Relying on software without product support is like driving a car without insurance. Everything seems fine until there's a problem and you find yourself in trouble for not having it.
If your software is no longer supported by the provider, you won't get the answers you need to run your business. When you can no longer count on the software provider to distribute bug fixes, security improvements, or product enhancements that mitigate risk and give your firm a competitive advantage, it's time to make a change.
4. If you have to update your hardware, will your outdated software still work in the new hardware environment? Hardware updates can inadvertently cause your system to stop working, leaving you dead in your tracks. While your teams may be power users of your solution, it's difficult to keep old hardware environments available to keep outdated software running.
Eventually, the old software will need to keep up with modern hardware and software configurations, but if a solution is no longer supported, it is nearly impossible to make it work. You don't want to find out on the last day of the month that your new laptop won't launch your financials or the new server isn't compatible with your document management solution.
5. If your software isn't meeting your business needs today, how can it keep up with the rate of change in the industry? An old software solution may meet all of your firm's needs today, but business requirements are constantly changing as you take on new projects, new clients, or new business initiatives.
If an old software solution is no longer receiving updates and enhancements, it can't keep up with the changing needs of your firm and could result in your firm losing a big project you can't support. It definitely pays to be proactive.
Leading a successful A&E firm requires the foresight to plan today for the needs and challenges your business will face tomorrow. A lack of planning can put both your business and reputation at risk. With all of this in mind, consider whether your business is being held back by outdated software solutions.
This is an excerpt from a Deltek white paper. Deltek is a software solutions provider to the architecture, engineering, and construction industry (among others). The company's solutions enable superior levels of project intelligence, management, and collaboration to make projects work successful with maximum productivity and revenue.