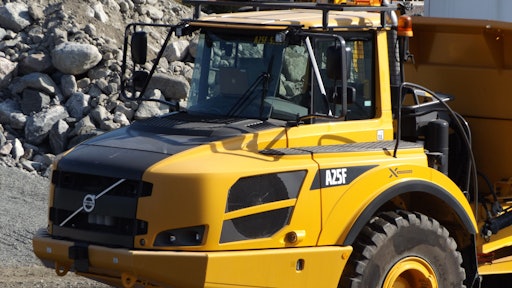 Attendees at Volvo Construction Equipment's (Volvo CE) Xploration Forum, held September 9 to 14 in Eskilstuna, Sweden, were given exclusive insight into some of the advanced technologies that the company has under development. Featured were the LX1 prototype electric hybrid wheel loader, a prototype autonomous wheel loader and articulated hauler and the concept HX1 autonomous, battery-electric, load carrier.
The innovations were presented as part of the "Concept Lab", a new technology communication platform that will enable Volvo-branded companies to showcase research and development projects in an effort to engage customers early in the process.
"Volvo Concept Lab will showcase ideas, innovations and collaborations that could potentially lead to future products and solutions — exactly like those... presented at the Xploration Forum," said Martin Weissburg, Volvo Group Executive Board and president of Volvo CE. "Although this technology may be years away from or may never enter production, it will undoubtedly influence our future offering and has the potential to transform the construction industry as we know it."
[Video] Volvo Concept Lab Provides Platform for Innovation and Early Engagement

Advancing Electromobility
"At Volvo CE, we are developing technologies connected to electromobility, intelligent machines and total site solutions that will benefit our customers and the environment by contributing to increased machine performance, productivity, efficiency, safety and sustainability," Weissburg stated. "Our future products and services will play an important part in building a sustainable society."
The Volvo Group defines electromobility as "commercial vehicles and machines that can utilize an electrical motor to propel or to perform the main purpose of the machine." A hybrid is classified as a machine that uses more than one power source and captures and reuses energy that would otherwise be wasted. It is a prerequisite that the machine has the capability for energy storage to count as a "true" hybrid.
The LX1 prototype hybrid electric wheel loader shown and demonstrated incorporates a driveline consisting of electric drive motors mounted at the wheels, electric hydraulics, an energy storage system, a significantly smaller diesel engine and new machine architecture. It has 98% new parts and a fundamentally new machine design.
[VIDEO] Sound of Silence: Volvo Prototype Electric Hybrid Loader Demo

According to Scott Young, program manager for electromobility, Volvo CE, "With electrification, we can de-couple. We can move everything around. We can change the way that the machine actually runs. This allows for modularity... We can actually change the architecture of the machine. Because [the subsystems] are not linked, we can now optimize the subsystems individually, and together we have greater efficiency in the machine."
For example, since the electric drive motors are not linked, design engineers were able to change the frame of the machine. "Because we were able to change the frame of the machine, there are no axles on the machine," Young noted. "When we changed that, we were able to move the loading unit where the bucket sits back closer to the center of the machine, so we can lift or produce more with a smaller machine. We then added energy storage, reduced the size of the engine and electrified the hydraulic system.
"The combination of that," he stated, "has allowed us to improve the fuel efficiency of a machine that produces at the same rate by 50%... vs. conventional machines today."
[VIDEO] How Electromobility Impacts Volvo's LX1 Hybrid Loader Design and Operation

The LX1 is part of a research project and is not commercially available at this stage. "Although we believe that there will be a major shift toward electric hybrid technology in the future, our customers, quite rightly, want improved efficiency now. We are delivering this through more conventional technologies," said Young.
"There are still opportunities to further optimize conventional technology, and these developments will compete with hybrid technology for some years," he added. "Having said that, we are currently in a period of exponential technology growth and I believe this industry shift will move at a faster pace than others have in the past."
[VIDEO] Volvo CE and Waste Management Partner to Measure Hybrid Loader Benefits

Moving Autonomy Into Industrial Applications
During his presentation at the forum, Weissburg pointed to the huge momentum, and resources, currently being put into development of autonomous passenger vehicles. He said it's predicted that 10% of all passenger cars in the U.S. will be driverless by the year 2025.
Such momentum offers opportunities for the industrial sector. "The technologies that are exploding in a good way in autonomous cars, we are able to leverage in our industries," he commented. "You could argue that autonomous vehicles are easier to launch first in an infrastructure setting — like a quarry, a mine or even road work — because it's contained."
[VIDEO] How Construction Benefits from Explosive Growth in Autonomous Vehicles

Companies such as Volvo CE can capitalize on the developments in autonomous vehicle technology. "We see the intersection of the technologies that we've been working on and what other industries have been working on coming together, and this is really going to accelerate our activities moving forward," Weissburg indicated.
Volvo CE proved its point by demonstrating two autonomous prototype machines – an L120 wheel loader and an A25F articulated hauler — as they performed typical tasks of loading and transporting materials.
"The demonstration machines were programmed to work together and carry out a specific set of actions on a pre-defined route," said Jenny Elfsberg, director of emerging technologies, Volvo CE. "The machines can perform the same task over and over again along a fixed route for a relatively long period of time.
The demonstration also showed how a radar-based object detection system could be used to protect workers on site. Once the "worker" crossed into the loader's path, the machine immediately halted, backed away and sounded its horn. Work resumed only after the work area was clear.
The objective of the autonomous system is to reduce risks currently present for operators and others working on a site. "Autonomous machines will increase safety in hazardous working environments and eliminate the possibility of accidents caused by human error," said Elfsberg. "They will also perform repetitive tasks more efficiently and precisely than a human operator. And because machines will be operated in the most efficient way, customers will benefit from improved performance, productivity, fuel efficiency and durability.
"In the future, you could also potentially have one operator for three or four machines, increasing productivity and further decreasing costs," she added.
Also shown was the prototype HX1 battery electric load carrier, an autonomous and completely cab-less vehicle, which will serve along with a hybrid wheel loader and a grid-connected excavator as part of an electric site research project hosted by Skanska Sweden at one of its quarry sites.
Volvo CE Predicts Up to a 95% Reduction in Carbon Emissions at Electric Jobsite

At this stage, there are no specific plans for commercial production of the autonomous machines shown. "It's still early days for this technology. We are working on developing solutions that have the required safety and performance levels that the market will accept," said Elfsberg. "Currently, these prototype machines don't communicate with each other and machine-to-machine communication technology — where machines 'talk' to one another and to a central control point — is crucial when it comes to avoiding collisions and facilitating an efficient flow of equipment."
Still, the prototypes offer a glimpse into the possible, and perhaps likely, direction in which certain industrial sectors will head. "We are starting to see systems that are less dependent on operator skills — ones that support operators with guidance or control primary functions," Elfsberg noted. "In the future, we will see increased machine autonomy and the operator will act more in a supervisory capacity. This will provide less stressful, more interesting work for operators, with perhaps several machines being controlled remotely by one operator."
Of course, not all tasks on a work site can be done autonomously. "Some tasks are so complicated that you really need to feel what you're doing," said Elsberg, "and in those cases we will still need operators controlling the machines from inside the cab."