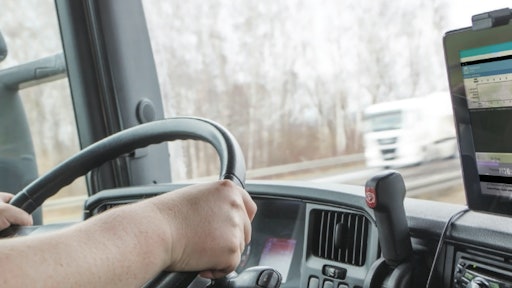 When it comes to implementing an electronic logging device (ELD), it's not just about meeting the bare minimum of the mandate requirements. You should also aim for products that give you a return on your investment in the form of savings and productivity, because you can fill more jobs in less time while cutting costs.
Learn more: The Contractors' Guide to ELD
Even though the ELD mandate may appear burdensome at first glance, it provides an opportunity to increase operational efficiencies by bundling electronic logging and telematics solutions. ELDs that are integrated with vehicle tracking offer a wide range of safety and productivity features that go beyond basic compliance and can help create a positive ROI for the fleet.
Under the Federal Motor Carrier Safety Administration's ELD technical rules, the solution used must be able to transfer data either through USB2.0 and Bluetooth or a telematics device. If a fleet has a telematics device installed, it should discuss with its provider the possibility of bundling an ELD solution. Bundling is simply the integration of an electronic logging device with a telematics or GPS vehicle tracking solution.
Some of the benefits may include:
A single platform - Bundling has a number of advantages for fleets, including the ability to have all driver and vehicle data provided in a single platform, giving added transparency to the fleet manager and its drivers.
A seamless transition - It gives fleets the benefit of scalability. For instance, Verizon Connect Compliance is a solution that can be bundled with Verizon Connect Fleet, a fleet tracking solution. This can help fleets take advantage of all the benefits that come with a telematics solution, while also putting the fleet in a good position to adhere to the mandate.
A flatter learning curve - Since a bundled solution shares the same platform, integrating an ELD solution into a telematics solution streamlines training and eases any driver or staff pushback. Reporting and monitoring is simplified for the fleet manager and fleet staff, since there is no need to have multiple solutions opened and logged in. There is also no cumbersome data integration of different systems required.
Reduced costs - Adding an ELD to an existing telematics solution saves implementation and additional equipment costs and technician time associated with installing any aftermarket hardware. If the truck has built-in telematics capability, implementation is again simplified and more cost effective, often only requiring the system to be, in effect, "turned on" by a compatible telematics provider.
24/7 accessibility - If the solution has an app, such as Telogis Compliance, the bundled solution can go wherever the fleet manager goes. This gives the fleet manager the ability to monitor his or her fleet away from the office on a smartphone or tablet device and be notified if a driver is coming close to reaching his or her HOS limit.
At-a-glance reporting - An app-based system gives drivers the ability to easily log in from their hand-held devices and, during roadside inspections, provide an enforcement agent accurate HOS accounting of the electronic Record of Duty Status (RODS) at a glance.
It buys time - In terms of the looming December ELD deadline, bundling provides an important commodity: time. Bundling may speed the timeline to compliance on the front end — e.g., adding an automated on-board recording device (AOBRD) prior to the December deadline — and on the back end if the telematics provider can upgrade its AOBRD to a compliant ELD solution.
[SPONSORED] Increase profitability and efficiency with your fleet now with a free fleet management system demo >>
Proven Results
Fleets that implement advanced ELD solutions that are integrated with their fleet management solutions have seen significant benefits, including maximized vehicle utilization and uptime, better management of transportation expenses and the ability to track driver behavior and reduce risk exposure.
With near real-time fleet monitoring, management knows what's going on in the field as it's happening, meaning problems like speeding or aggressive driving can be nipped in the bud. A vehicle tracking solution also helps keep track near real-time hours of service (HOS) and sends that information to the office, letting managers alert drivers to help prevent violations before they run out of hours.
Using GPS tracking can give better insight into fuel expenses and state mileage for IFTA (International Fuel Tax Agreement) reporting purposes. It can help you streamline your maintenance costs, and give you a better understanding of driver productivity, driver safety, customer service and other related issues.
An ELD system with IFTA reporting capabilities can automatically collect all route line and mileage data, accept input of fuel purchase data from the carrier's fuel card provider, compile the data, and create the required reports all with minimal labor.
Not only do ELDs track speed, but they can also record engine idling time and transmission shifting behavior – information you need to coach drivers on how to improve fuel economy.