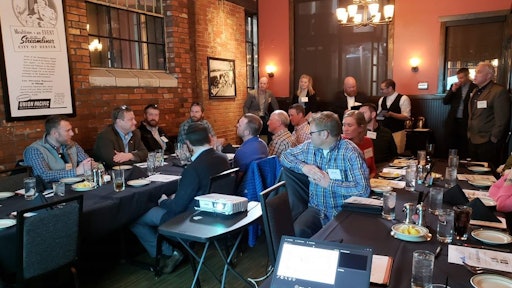 Construction has always been an old school kind of business, even among the tech-savvy. A hands-on approach still seems the surest way to get things done in an industry propelled by demanding project schedules and ever-increasing complexity. 2019 is far beyond the dawn of technology as an asset in commercial construction, yet many in the industry still find the integration of new technologies difficult, expensive and sometimes less than successful.
In the spring of 2019, MasterGraphics.aec (MG.aec), national specialists in design and construction technology and process innovation and a premier partner of Autodesk, convened a General Contractor Round Table in Denver. A group of 10 participating firms enjoyed lunch and a thoughtful, spontaneous conversation on the challenges and benefits, frustrations and successes they experience in the technological churn.
"MG.aec is interested in understanding the issues the building industry faces from the users' perspective. We'll conduct similar Round Tables nationally," says Stan Hennigh, Business Development Manager of MG.aec's Construction and Specialized Services team. The Denver Round Table included participants from readily-recognized general contractors serving both Colorado and national markets:
GE Johnson Construction

   

Haselden Construction

       

  

FCI Construction
JE Dunn Construction

        

Hensel Phelps Construction

  

Saunders Construction
Mortenson Construction

  

Fransen Pittman

       

              

UCHealth
MB BIM Solutions
"Buying and implementing new technology is supposed to solve problems, not create them," says Hennigh. Participants were surveyed using a mobile-phone poll around three conversations:
Productivity and Waste
Implementation and Adoption of Technology
Disruptive Processes and Technologies
The group's responses were tabulated instantly, setting the agenda for the discussion that ensued.
Productivity and waste
What are the greatest concerns; root causes; and possible solutions
The group largely agreed that the biggest challenge is the cost and aggravation of rework. Primary among the causes for rework in the eyes of participants was a lack of design completeness. Lightly defined details or poorly-coordinated building systems combined with subcontractors' need to work at least as quickly as the schedule demands can lead to complications and rework. The impacts of rework in the field are mistrust, decreased profitability and possible delays to other trades.
Owners need to be aware when they hire an architect, they are buying a set of design documents. They have a responsibility to demand quality documentation and clear specifications that don't leave contractors trying to resolve design issues in the field.
When owners incorporate an integrated contracting model like Design-Build, Integrated Project Delivery (IPD) or Construction Manager at Risk, they take a big first step in eliminating the probability of rework. Fluid collaboration among owners, designers, contractors and builders and improved project documentation from start to finish are primary advantages of integrated delivery methods.
Used in an integrated project delivery, Building Information Modeling (BIM) can eliminate many of a project's possible complications. Most importantly, successful projects generally involve owners who are engaged, committed leaders rather than passive participants.
Implementation & Adoption of Technology
Success, failures, and opportunities for innovation
The Denver Round Table shared that implementing new technology was initially handled like other facets of construction, through departmentalization. At the onset of the Building Information Modeling boom in the late 2000's many leading commercial contractors created BIM departments and staffed them with young, tech-savvy specialists to bring building into the digital age. However, taking cues from the ingrained wisdom of having a dedicated safety department or estimating team, at many firms the BIM department was instantly siloed away from the daily flow of work.
"Departmentalization causes a stop-and-start process in the workflow," says Hennigh. "Technology should be integrating more participants into decision making, and to do so it needs to be used start to finish."
Several participants commented on the benefits of co-locating entire project teams through design-build or other integrated contracts to achieve better project development. Co-location also reduces individual user's frustrations with new technologies due to easily accessed peer assistance.
Some firms are using BIM's fourth dimension, the capacity to coordinate the design documentation with the project schedules to improve construction sequencing. Many involved in the Round Table recommend incorporating a Lean construction process called Pull Planning to align all subcontracted and self-performed activities through teamwork and advance communications.
"The construction industry is embracing new technologies and with it, new thinking on old ways of doing things," says Hennigh. Today, technology is working its way from the office to the jobsite with increasing speed. A great example of how emerging technologies are bringing advantages to the field discussed at the Round Table involved the use of GPS tracking equipment on a bulldozer. Excavating the angled slope of a below-grade parking structure and being able to immediately verify rather than estimate the angle's accuracy provides confidence that is hard to walk away from once you've had it.
Getting technology into the hands that do the work has tremendous positives but can come with steep implementation costs and the risk of rejection if things don't go smoothly from the start. The Round Table recognized that the schedule drives a project. Anything that disrupts the schedule, technology included, is a negative. Ultimately, subcontractors can't build their work with a computer so whatever technology they are asked to use must add tangible benefits or it's a hindrance.
"When specialty contractors take ownership of the BIM model the ease of construction is improved," says Hennigh encapsulating the Round Table's conversation. Subcontractors that adopt a model-based workflow better understand expectations, improve the coordinated delivery of their scope, and potentially improve overall sequencing.
Disruptive processes & technology
The good, the bad, and how to implement new technology
The Round Table agreed that start-to-finish integration was imperative, and the greatest opportunity for technology to improve a project's performance was during the preconstruction phase. It's no surprise the Round Table revealed prefabrication as the industry's best new ally in the race against time.
Prefabrication targets repeatable segments of the building that can be built offsite in a controlled environment. Doing so allows a completely different perspective on sequencing, trade integration, value-engineering and quality, all of which can be modeled and evaluated independently of site variables.
"Prefabrication is an area where new and emerging technologies can be integrated with a fraction of the schedule pressure," says Hennigh. "Technology has to be inserted behind the work people are already doing. Prefabrication is the Henry Ford model of construction, so using technology to synchronize it makes perfect sense."
Where things become more difficult around the concept of disruption is the idea of causing any disruption on a live jobsite.
"Technology problems in the field result in immediate distrust," says Hennigh. The Round Table agreed that new technology needs to have all the kinks worked out before being introduced in the field. Among the myriad of new technologies coming into regular use, the group identified laser scans as highly effective because they are easy to acquire, inexpensive and they provide genuine value in time saved and insight gained. Laser scans generate a point cloud that allows teams to conduct a nearly infinite level of analysis on a situation in far less time than it would take an individual to measure manually. 
"The bottom line for contractors with technology or anything else is, will it save time, save money and eliminate risk?" says Hennigh. "Implementing new technology should be done thoughtfully, and to be effective it has to render advantages to the people doing the work."
Sean O'Keefe writes design and construction stories based on 20 years of experience and a keen interest in the people who make the built environment happen. He can be reached at sean@sokpr.com.