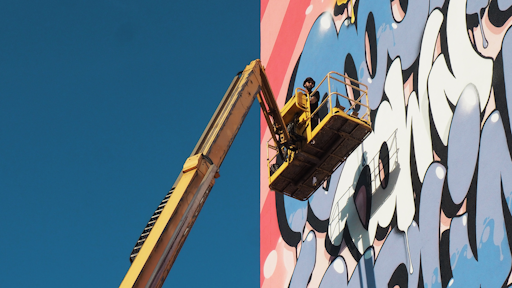 Manufacturers are capitalizing on technology to bolster the safety of those operating machinery like boom lifts as well as to protect surrounding workers and equipment.
Key among recent advances are enhanced detection systems that sense obstructions and, if needed, either slow or even halt machines, overriding operators and ensuring worst-case scenarios are avoided.
That was the prevailing theme in a presentation on safety features in lift equipment by Craig Edwards, Vice President of National Accounts at JLG. He spoke at the 2019 United Rentals Total Control and Innovation Conference.
"The one thing that I believe everybody is probably familiar with in the room is the operator protective bar, or some type of mechanical item, that protects the operator from being crushed into the controls. With a boom lift, if you can picture yourself in a boom lift, a lot of times you're moving in the opposite direction that you're facing. So crushing hazards are a very, very real hazard in the industry," he said, to emphasize the importance of progress on the safety front.
"So, in the last five to seven years, manufacturers like JLG have found ways to protect that operator from the controls. Now, we all know that that's only going to protect the operator. So there are more items that need to be protected as well," he continued. "Sometimes you have two people. Sometimes you may have three people, depending on the style of machine you are in." Systems that detect obstructions "will make sure the machine at least stops, and in some cases reverses, but whatever the case may be, whatever manufacturer," increasingly more protective devices are being installed on machines going forward.
These developments, he said, prevent the platform from engaging not only to protect operators but also surrounding equipment in the environment that may be more fragile than the machine. There "is a need in the industry to protect that operator, the people around the operator and the environment around the operator from obstructions," Edwards said.
Of new detection systems, he added, "You're going to have an alert for the operator that something is nearby, an automatic reduction in power to the machine. … And then once you get closer to that obstruction, it will actually stop the operation of the machine fully."
This technology, he said, not only protects operators but encourages conservative handling of machines.
"What we find in the industry is, a lot of times, it's our most confident operators, say overconfident, that are constantly leaving machines in full power mode. And that's where we get into issues with damaging machines, damaging the environment around the machines. So this is just an example of an enhanced detection system that can protect not only the operators inside the platform but also protect the environment around the platform. So, again, different manufacturers have different items, but the key here is making sure that that operator not only is alerted but [also] that the machine backs the power down automatically, so you can't go full speed into obstructions."
Edwards added, "A lot of people in this room have sat and watched a really good boom lift operator and been impressed by how they can make a boom lift dance. Well, that's all great. But at the end of the day, you want to make sure that the operators are safe themselves."
Federal data indicate that safety enhancements are making an impact. The construction industry's nonfatal injury-illness rate declined to 3 per 100 workers in 2018, from a 3.1 rate a year earlier, extending to five consecutive years of improvement, according to the Bureau of Labor Statistics. Additionally, the number of injuries resulting in days away from work declined about 3% to 77,500 in 2018.