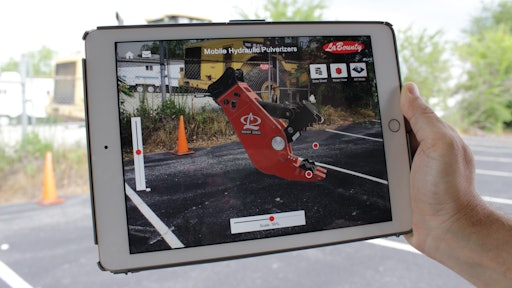 TRICK 3D
It started with applying high-end 3D effects from the movie industry to architecture. Now, Trick 3D – a visual innovation studio specializing in augmented reality (AR), virtual reality (VR) and 3D animation – has developed an innovative platform for equipment sales teams and construction equipment owners to promote, sell or rent products, and even provide a remote training alternative.
The new AR sales tool and service was launched earlier this year to support sales forces challenged with selling products without the benefit of face-to-face interaction. Drawing upon the studio's experience powering AR sales for STANLEY Infrastructure and VR sales for Delta Air Lines, the studio is providing sales teams with the option to 3D model products and put them into the environments of their potential buyers through AR-enabled mobile devices.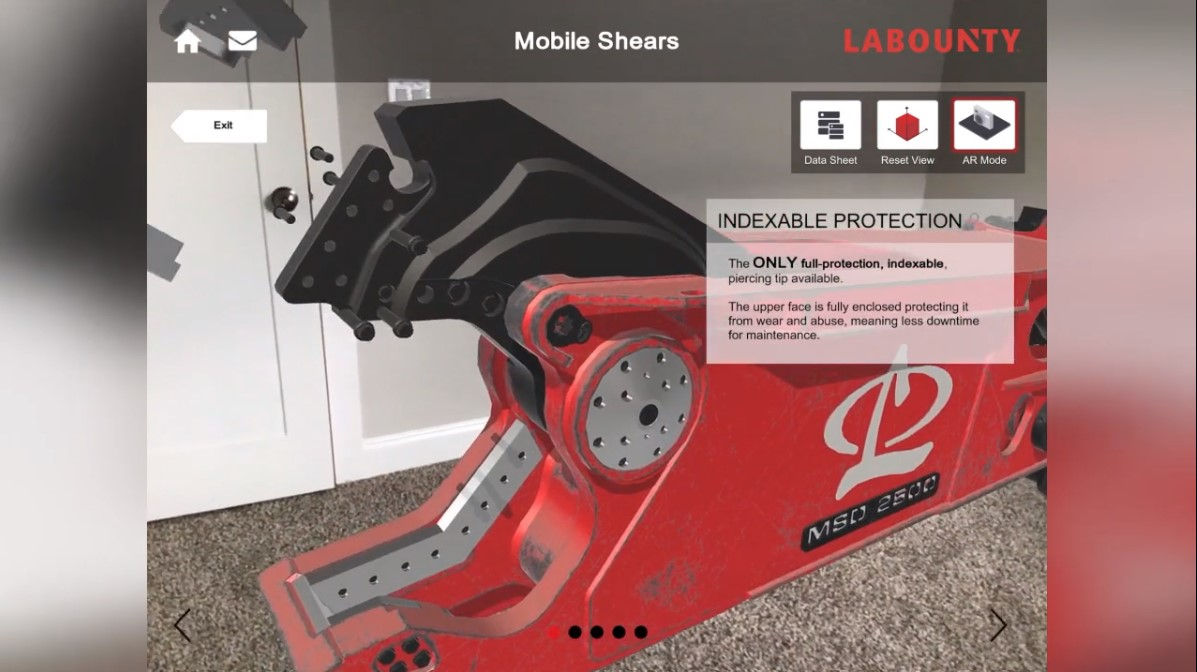 "With both ARKit and ARCore available to the public, augmented reality is now enabled on millions of devices across the globe," says Chad Eikhoff, studio founder. "Our goal here at TRICK 3D has always been to use new technologies to solve tough problems – and right now, there is surely no shortage of tough problems to solve. That is why our team is rolling out our AR-powered remote sales offerings now, in an effort to provide solutions to sales forces that are facing difficult and highly-restrictive conditions, yet still need to share product offerings with potential buyers."
While the solution was originally developed to help sales teams to promote and sell equipment that was very costly or difficult to bring onto the trade show floor, the COVID-19 pandemic has highlighted the advantages of a fully digital remote sales tool. It has also revealed other potential opportunities for those selling or renting construction equipment.
From Movies to Heavy Equipment
When Eikhoff founded Trick 3D roughly 14 years ago, his background was in the entertainment industry providing high-end 3D animation and CGI for the movie industry. However, he saw how this technology could be applied to other fields, including architecture to render buildings as images or videos for sales purposes.
Eikhoff then began to explore other industries and larger brands. "We started realizing the power of the 3D model and all the different things we could do with," he notes. "It opened the doorway."
The company's first major client was Delta Airlines, building and managing their virtual fleets of aircraft for product development and marketing. This migrated into the development of sales tools.
"We started creating sales tools, both AR and VR applications, that allowed people who were selling something that large," Eikhoff comments, such as what it's like to be in a first-class environment. They struggled with being able to portray that to people when they were in a conference room setting or when they were actually doing sales at [a trade show]."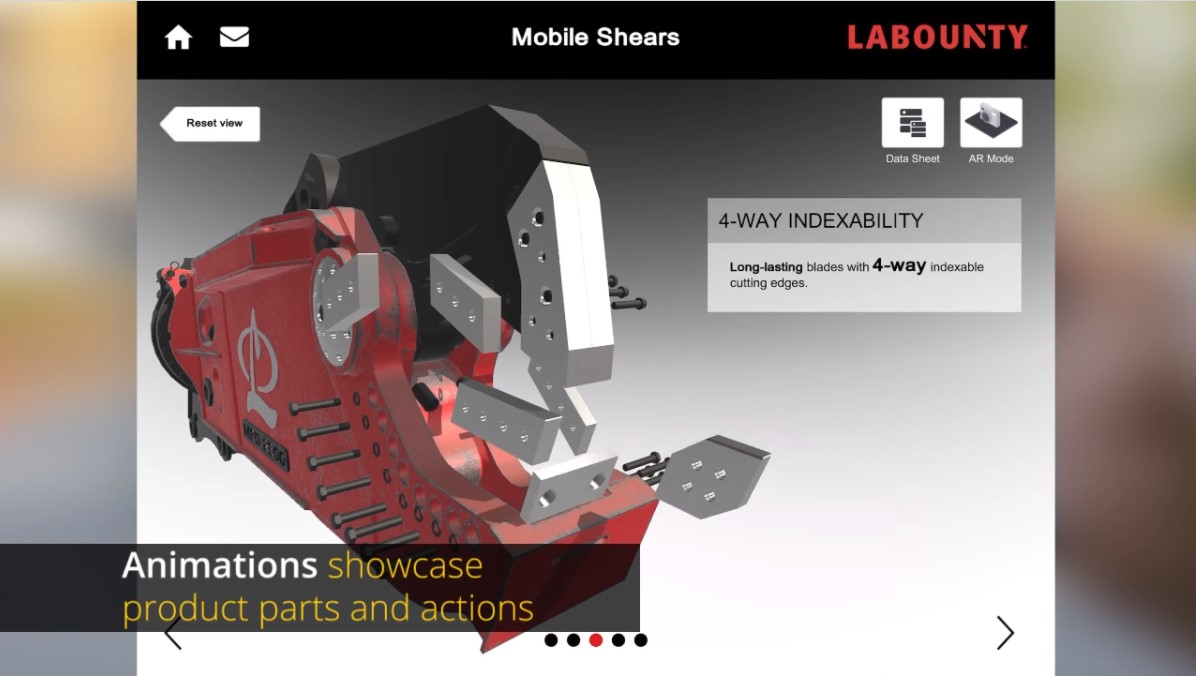 From there, Trick 3D began its relationship with Stanley Infrastructure, a division of Stanley Black & Decker, which provides large construction and industrial attachments. The result is the latest AR sales tool and service.
[VIDEO] Trick 3D Uses AR, VR and 3D Animation to Promote, Sell or Rent Construction Equipment
As Eikhoff points out, "It's very expensive to try and get [these attachments] on site. And it's hard to get people to understand the scale of them. So that is primarily where this tool was built from.
"We built it around capabilities that allow you to utilize augmented reality, as well as interact with a 3D model on [mobile] devices in a very simple way that showcased all the values of the tool," he continues. "We also wanted the tool itself to enclose any and all materials that just tell the story of that specific product." This includes photos, videos, technical specifications, testimonials and more.
Life-like Product Insights at Your Fingertips
Key benefits of Trick 3D's remote sales offerings include:
The ability to see products in AR, allowing for determination of product size and scale;
Photo-realistic 3D models of a product with animations to highlight functions and features;
All-in-one feature call-outs, product sheets and videos all from one centralized remote selling application.
Trick 3D allows you to access information via a mobile application and a web browser. The user can easily click on various features and details and click and zoom to look at product details. A scale reference feature even allows the user to compare how big the equipment is compared to a person to get a sense of size and scale.
"One of the things that's unique about our app is the ability to include 3D animations to highlight the various features," says Elliott Rothman, head of technology, Trick 3D. For example, in the case of a Stanley pulverizer attachment, you can simply tap on an image of the swift block teeth and the product will zoom in and play an animation demonstrating what's unique about them. "Optionally, the client can add a photo or video for a specific feature."
But where the biggest "wow factor," and advantage, comes in is the AR mode. This function allows you to virtually place the product within the customer's own environment. "When Stanley came to us, part of the original goal was to help give their sales team members an advantage on the trade show floor," Rothman points out. "Instead of having to transfer this equipment, which costs [many] thousands of dollars to move around, they're able to empower their sales team with iPads and show their products at real-world scale.
"I think this level of interactivity is something you can't really do on a website," he adds.
"That's definitely the big differentiator," Eikhoff agrees. "Having a dedicated mobile showroom that you have with you – that feels very much like this is a showroom and it's not just like a brochure up on the internet somewhere – helps the overall experience so that you feel like you're actually more focused on the things that you're looking at."
Of course, not everyone has access to or need for such high-level capability. Consequently, the solution is designed to allow the client to customize the user experience. "We like to work directly with the customer and have them say 'Here's what we're trying to accomplish' and then we make sure that it's a success for them," says Eikhoff.
The solution is built around customizable "slots" that can be filled according to what the client is trying to accomplish. "We've essentially built it with various options for content… You could add as many features as you want," Rothman explains. "So, we have the ability to add videos and photos, the data sheet."
"Whatever your story is that you're trying to get across, this aggregates it all into one place," Eikhoff adds.
The tool is set up to be easy to update, as well. "The client is able to change the marketing copy easily without having to issue a version app update – to make quick copy changes like you would on a website. That was our goal," says Rothman.
Accessibility is also easy. "It can be launched as a public app that anybody can access and then you can utilize it in all the same ways," says Eikhoff. This includes via iPads, smartphones and other mobile devices. Rothman anticipates the ability to scale up to run on store kiosks and touchscreen devices in future, if needed.
Used Equipment Sales and Training Opportunities
Beyond traditional new equipment sales tool, the Trick 3D mobile solution presents intriguing opportunities for construction business owners seeking to liquidate specific units in their fleet, such as high-dollar used equipment, on a broader scale where face-to-face interaction may not be practical or, as in the case of the pandemic, safe for either buyer or seller.
"It's particularly helpful if there is a certain product that you're trying to move," says Stacy Shade, Trick 3D's head of studio relations and COO. For example, Stanley Infrastructure is using the application to highlight tools that are a priority to them. "So, I think if there were certain tools that [a construction firm or rental center] needed to move, and they needed an extra, more lifelike experience, especially during this time, it could be an awesome solution for them."
Likewise, the solution could be used by rental operations to highlight specific equipment available to rent.
Augmented reality brings the product directly into your environment.Conversely, equipment buyers or renters could take advantage of the mobile app to learn more about specific products, and gauge more clearly and accurately how they might fit in the fleet prior to acquisition.
Then there are the training possibilities. One of the challenges both contractors and rental centers have faced during the pandemic is how to ensure proper training on equipment during times of social distancing. But even in a normal environment, ensuring ready access to training resources for equipment, particularly in the field, can be a challenge.
For example, Trick 3D created a training tool for flight attendants to train them on where to find different areas of the aircraft galley. This could be readily translated into training on certain types of equipment.
"Right now, we're focused on features you're using to educate and sell a product. But absolutely, those could all be more training focused and, say, videos on how to use it," says Eikhoff. "It just depends on what content you want to put into it. But training would absolutely be possible to put into the tool."
"Just the fact that you're able to walk someone through in a way that is very meaningful, and they can visually understand what they're looking at and what you're talking about – I think could be a very powerful tool," Shade adds.