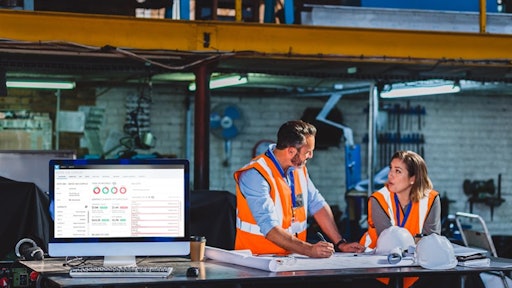 The construction industry is in the midst of a digital data revolution as a growing number of contractors migrate to the cloud, leaving paper reports, cumbersome spreadsheets and outdated software behind. 
In place of inefficient processes that make it harder to foresee long-term project health and guarantee on-time, on-budget delivery, the cloud allows contractors to focus on real-time data capture and analysis for safer, smarter projects and improved profit margins. And, it's helping them compete and handle modern project demands, especially in the heavy highway space where projects are fiercely competitive and once won, demand faster completion times and higher quality. 
If you're still using paper or unreliable software to manage your business, here are eight reasons your construction organization should consider moving to the cloud:  
1. Real-time Access to Reliable Data.
According to a recent report from Dodge Data & Analytics, 64% of contractors said data gathering and analysis capabilities have improved in the past three years, with technologies like cloud-based construction software leading the way. Whether you're working from a desktop at the office, a smartphone on the jobsite or a remote trailer, moving to cloud-based software means you no longer need to be tied to a physical workstation in the back office to access, share or process project data. You can consistently get the information you need, when and where you need it.
When your data lives in the cloud, changes made in the office are automatically updated for users accessing features in the field, ensuring that your office and the field teams aren't working off different sets of data. This lessens the potential for costly errors and saves the time that would otherwise be wasted entering information from a variety of manual processes and translating or rekeying data from one software program to another. 
2. An Increase in Productivity
The ability to work in real-time translates directly into productivity gains. When information flows seamlessly, questions are answered immediately and bills are paid quicker. With the ability to work in real-time, automated workflows, dashboards and self-service reporting, you can do in minutes what traditionally took days, weeks or months.  
3. A Dramatic Reduction in Risks
With access to real-time information, the chance for mistakes and errors — from the back office to the field — is dramatically reduced. You'll be able to spot problems as or before they occur and resolve issues before they turn into major problems that require costly rework.
4. A Stronger Disaster Plan
A disaster, such as a fire, flood or on-premise server failure, can bring work to a screeching halt. With software based in the cloud, critical data lives in a secure environment and is protected by the latest security protocols and standards. It's also safe from environmental risks. With regular data backups, work can keep moving even when uncontrollable problems arise. 
5. Enhanced Security
As the industry becomes more digitized, protecting data from threats is a top concern. While concerns over data security are a common hesitation for moving to the cloud, providers today are tasked with maintaining the most rigid security measures and consistently watching and planning for the very latest security threats. In fact, this level of security protocol now far surpasses the levels most contractors are able to provide themselves with on-premise data storage. Watch one contractor's approach to modern data security after its business was subject to a ransomware attack. 
6. Cost Savings
The capital costs of hardware, maintenance, IT and additional software licensing required by on-premise software solutions can cost up to four times as much up-front as a cloud-based subscription model. When you add in savings gained from productivity spikes and reduced or redirected labor overhead, moving to the cloud becomes significantly more cost-effective.
7. Scaling for Growth
With advances in technology, software and data delivery, cloud-based software sets you up to easily scale and adapt the latest technologies to meet your company's future needs. As technologies across the globe center around the cloud, future advancements will likely require cloud adoption. By investing in the cloud today, you'll be well positioned for the future.
8. Attracting Talent
For years, contractors have struggled to attract and retain top talent as younger generations choose careers in technology over construction jobs. By implementing the latest cloud-based technologies, tech savvy contractors are faring better at attracting and training younger generations of tech-savvy professionals. In turn, these younger professionals are forging new paths of innovation that are helping contractors achieve even more productivity and profitability.
The "cloud" used to be a term that sent people running for the doors. The idea of putting personal or business information in a central, accessible repository in the ether seemed like an unreasonable risk only 10 years ago. 
But as advances in cloud computing technologies and the security measures surrounding them have shown, the benefits far outweigh any remaining fears. If you haven't made the switch yet, it's not too late to embrace the cloud and embark on a journey to safer, smarter projects with improved profit margins.
About the author: Betsie Hoyt is a senior product manager at Viewpoint, a Trimble company and leading provider of construction management software. Betsie has more than 20 years of experience bringing innovative technology to the construction industry.