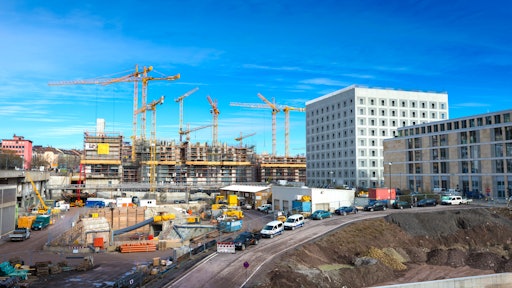 *Content Sponsored by Quandry Consulting Group, LLC.
Major consulting firms like McKinsey often highlight that construction is far less productive than other industries.
But this fails to paint the full picture.
After all, construction firm stakeholders are eager to achieve the benefits of automation. Unfortunately, they face unique obstacles that reduce the efficiency of digital solutions.
Mainly, they often work in challenging physical environments without the proper infrastructure for apps to function.
And with slim profit margins (between 4% - 6%), construction firms are increasingly hesitant to invest in digital solutions that may not work at construction sites or in other remote places.
While construction firm success may well rest in digitizing processes, team members need applications that can function in harsh, chaotic environments without regular Wi-Fi access (a common occurrence on most job sites.)
Why the Construction Industry Struggles to Automate Processes
The construction industry is eager for automation. But it presents a uniquely challenging use case.
For one, numerous resources are mobile by the nature of their role and the construction processes they support. Overruns, rapidly changing costs, and supply chain disruption are just a few of the typical challenges construction project managers face to bring a job in on time and within budget.
Even worse, global slowdowns due to COVID stalled the construction industry while many other industries thrived.
After all, you can't exactly build a new retail center working remotely in your pajamas.
Dated manual processes and procedures make these problems worse. (Overseeing workforce management from a spreadsheet and a notebook causes all kinds of slowdowns.)
Unfortunately, this has led to declines in productivity, damaging already slim margins.
Adding fuel to an already bright fire, you have an aging workforce that's hesitant to adopt technology despite labor shortages, budget overruns, and growing customer dissatisfaction.
And it gets worse.
The construction industry operates in less-than-ideal conditions. Often, the infrastructure needed for digital solutions to operate doesn't exist.
As a result, when construction firms try to integrate new technologies (that work for other businesses) into their workflows, stakeholders find that these solutions don't always work. And this forces staff to revert to inefficient manual processes.
Without access to servers, project managers and contractors have to rely on notebooks, printouts, and spreadsheets to get work done.
How to Achieve Automation Offline in Construction
If you want to increase productivity in your construction company, you need automated, mobile solutions with offline capability. Anything short of that will create more work for your team.
Construction projects are complex. Each one has unique challenges and specifications. Still, it's possible to streamline these workflows with custom-built solutions.
Even better, this can be done affordably using low code.
Low code empowers construction businesses to build the exact custom solutions they need without coding software from scratch.
These cloud-based platforms enable rapid application development. And costs that scale with use, making them affordable. This is crucial for construction firms struggling with slim profit margins.
Low-code applications have mobile functions that work off cached data. That means that if you have a low-code application installed on your mobile device, you can use your custom tools to knock out work without any extra steps.
Updates happen manually once your mobile device connects to the internet again.
The data also remains secure. Low-code apps built in Quickbase, for example, have 256-bit encryption. Whether you're in transit or at rest, online or offline, you just need to log into the app when connected to the necessary infrastructure, and your data will update automatically.
8 Benefits of Automating Construction Management Offline
There are 8 key areas where offline capability can help drastically improve efficiency and increase margins while reducing waste and risk for construction companies.
Building applications that manage any of the following offline can lead to a significant ROI in the form of reduced labor, mistakes, waste, and other inefficiencies.
1. Improved Reporting
Construction projects have numerous moving parts, each with its own data stream. Without automated systems, those data streams stay siloed.
If you want to see the whole picture, you typically need to pay an employee to manage data collection. This is time-intensive and costly.
By automating construction management processes offline, you can capture these data streams using applications on various mobile devices. When these devices reconnect to your data infrastructure, they'll automatically update, giving you near real-time insights.
2. Project Management
Milestone tracking is key to ensuring your projects stay on time. With so many deadlines and moving parts, you need to know where your team stands.
Notifications also help ensure your team doesn't fall behind on projects without having to sort through endless emails and sticky notes.
With offline construction management automation, your team can receive these notifications and track milestones on even the most challenging job sites.
Updating your building automation modeling (BIM) is also easier with offline capabilities. With offline BIM updates, your team can track potential problems, makes suggestions, and monitor progress while on a job site.
Your BIM will update when team members return to areas with Wi-Fi. This supports collaboration, keeping projects on time and within budget.
3. Asset + Warranty Tracking
Tracking numerous assets on various job sites is a continuous (nearly impossible) task to manage manually. Assets end up broken, stolen, or lost, damaging your bottom line.
You can automate asset and warranty tracking with a simple low-code program that functions offline.
This will allow you to monitor where your tools are and the condition they're in without relying on spreadsheets and manual inventory.
You can even set up GPS tracking on expensive assets and have their location updated on your systems when they connect to your infrastructure.
4. Efficient Mobile Punch List
Instead of wasting time heading back to the job trailer, you can update the punch list on-site while evaluating the issues. You can snap a quick picture of the issue, along with a few notes, and update your punch list.
This rapidly speeds up the process.
Automated punch lists also allow you to organize problems by issues or responsible parties quickly, so you can ensure the issues get handled quickly.
It's fast, accurate, and easy.
5. Performance Evaluation for Vendors (With KPIs)
Evaluating vendor performance can be tricky if you don't have an accessible, uniform way to update files.
Without an application to manage vendor performance, you need to write down your observations or jot them down somewhere manually. It's easy to lose these notes. And sometimes, they're even illegible.
Either way, your vendor performance will stagnate without regular, accurate feedback.
With an application that automates vendor management, you can evaluate contractors offline and easily make them feel they are integrated and valued contributors to any project.
6. Blueprint Edits
Traditionally, contractors and construction workers print digital blueprints and edit them manually.
This is tedious.
Your contractors have to print out blueprints, update them with notes, and then reprint them later.
Even worse, you can miss important details when manually dictating notes or transcribing them into digital format.
By digitizing blueprints and providing offline functionality, contractors edit and add notes using a mobile device on-site. And they can upload them automatically to their systems with ease.
This also benefits construction companies that use drones to make aerial shots. You can record the images you need and store them with the blueprints for access later.
7. Employee Time Tracking
Offline capabilities are key when automating construction worker time tracking on sites. This is especially true early on when job sites can be isolated far from any reliable infrastructure.
Time theft affects 75% of US businesses, with 43% of workers exaggerating the number of hours they work on shift.
The construction industry is no exception.
Contractors arriving late, leaving early, taking extended lunches, and "buddy punching" can lead to lost profits. Automating time-tracking with offline-capable solutions will help you reclaim those losses.
You can even deploy digital payroll systems that allow employees to clock in and out on-site while verifying their identity using facial recognition software.
Plus, your field managers won't have to waste time on repetitive manual tasks related to employee time tracking. Instead, employees manage their own time.
8. Workflow + Workforce Management
Job sites face continuous changes.
Project managers must be able to adjust schedules while onsite to meet project milestones on time.
More often than not, job sites lack the stable infrastructure needed for automated construction workforce management solutions to function.
This forces contractors to rely on manual processes. And with so many moving parts, paper notes and spreadsheets can only get your team into trouble.
Whether you need to manage contractors on specific projects, onboard contractors, or access and share dig permits, having an automated workforce management system with offline capabilities to manage construction processes is key.
Offline Automation Is a Must in the Construction Industry
Traditional custom application development isn't feasible for most construction companies.
With slim margins, investing 6-figures into a single application build that takes 9 - 12 months to complete isn't a realistic solution for stakeholders.
The construction industry cannot continue to manage projects manually with notebooks and spreadsheets. For the foreseeable future, costs will only continue to increase.
Investing in digital solutions to manage construction processes is key for companies looking to increase productivity while drastically reducing expenses.
But with so many solutions on the market, how do you know which ones to invest in?
The key is low code.
At Quandary Consulting Group, we work with construction firms to streamline workflows with custom applications built to their unique solutions. Increased worker engagement. Faster project completions. Fewer errors, time theft, and waste on projects.
You'll get all the enterprise-level features without the enterprise-level price tag.